Reynaldo Villar | 03.03.2022
This is first in a series of insight and discussion articles addressing the obesity epidemic and the challenges faced by American healthcare providers and clinicians in their struggle to motivate patients to take greater control of their weight and health
While it may be true that we need more than just a day to address this global healthcare challenge, it helps to have at least one day to re-energize the struggle against obesity – especially when it's so easy to overlook these health issues during these troubled times.
Today is World Obesity Day, a day of awareness and call to action against a growing epidemic that now afflicts almost half of all American adults.
World Obesity Day was created in 2015 by the World Obesity Foundation with the goals of "stimulation and supporting practical actions [to] help people achieve and maintain a healthy weight."
This year, the 2022 World Obesity Day's theme is "Everybody Needs to Act," highlighting the need for more action to reverse this trend and will include a global social media campaign and call for world leaders to act on obesity at the policy level.
800
Million
People or 1/10 of the world are obese
$1
Trillion
Medical cost per year of obesity by 2025
2X
COVID
Obese twice as likely to be hospitalized for COVID
60%
Child Rate
Expected increase in childhood obesity by 2030
An unchecked growth trend
For most healthcare providers and clinicians, the rise in the prevalence of both adult and childhood obesity is not news.
The trend has been clear and apparent over the past three decades. And there is now a mountain of research on how obesity is a primary factor in the growth of other chronic diseases, such as diabetes, hypertension, heart disease and more.
Primary physicians and healthcare providers, in particular, know this worrying trend all too well, as they see it everyday in their communities. And data from the National Institutes of Health (NIH) continues to prove that this trend is national.
As evident in this NIH obesity graph, the prevalence of obesity among American adults has continued its nearly three-decade growth, with more than 42% of all U.S. adults classified as obese as of 2018. That's a 39% increase in overall prevalence since 1999-2000.
What is even more worrying is the percentage of American adults that are considered to have "severe obesity." This rate has almost doubled to 9.2% in 2018, from the previous rate of 4.7% at the turn of this century.
In other words, there's a good chance that at least one out of every 10 patient primary caregivers see probably suffer from sever obesity.
The future looks even worse
As bad as the obesity rates are for American adults, even more worrying are the trendlines for America's children.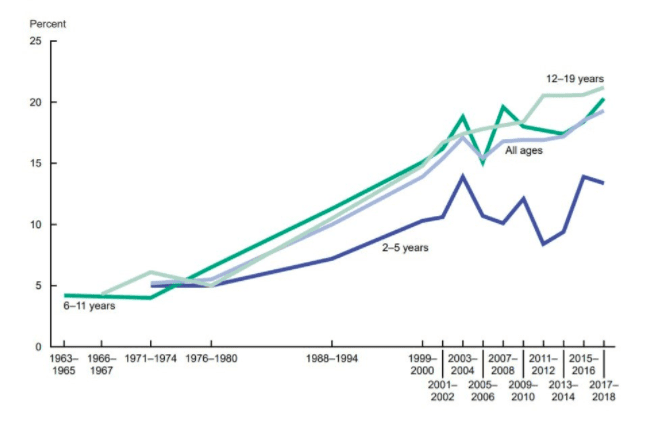 According to that same NIH article and chart, the rates of obesity among U.S. youths has more than tripled over the past five decades. In 1971-1974, for example, only about five percent of U.S. youths were considered obese. That rate is now approaching 18% as of 2017-2018.
A factor in our healthcare crisis
Our healthcare system and its spiraling costs are a growing crisis straining our businesses, as well as our local and national economies. And the increasing prevalence of obesity among Americans is a big factor in that crisis.
According to the Centers for Disease Control and Prevention (CDC), obesity is a "common, serious, and costly disease" that has grown in prevalence over the last few decades. Data from the CDC on adult obesity paints a disturbing picture of how obesity, and its relationship to chronic illnesses, has grown as well as the overwhelming medical costs of this disease.
A study of the medical costs of obesity done at the George Washington University School of Public Health and Health Services estimated annual costs of obesity and its related conditions to range from $147 billion to nearly $210 billion per year for U.S. consumers.
That report also highlighted how much obesity costs each affected patient on an individual level:
$2,646 per year for obese men – primarily through direct medical costs
$4,879 per year for obese women – who are disproportionately affected by job-related costs, such as lost wages
If this trend continues, it's estimated that costs would increase by an additional $48-$66 billion annually. They also calculated an estimated $580 billion in lost economic productivity by 2030 if the obesity trends continue.
A big reason behind our negative health trends
Attributing death specifically to obesity alone is difficult because of the presence of comorbidities associated with obesity. However, death caused by those associated chronic ailments are tracked by the CDC.
In the United States, three obesity-associated conditions are among the 10 overall leading causes of death annually, including:
Heart disease: almost 700,000 deaths
Stroke: over 160,000 deaths
Diabetes: over 100,000 deaths
Certain cancers are also associated with obesity (cancer causes over 600,000 deaths annually) but correlating between the many types of cancer and obesity as the cause is also difficult. Suffice it to say obesity is a national—and global—health crisis.
The costs of obesity both monetarily and in human life is high, but how did we get here?
Complicated source of obesity
Obesity and its causes are a complex mix of factors including behavior and genetics. Behaviors that contribute to obesity are varied and include (but are not limited to):
Sedentary lifestyles – spending hours sitting at a desk at work, long commuting times, the rise of social media all contribute to less active lifestyles.
Diet – The modern U.S. diet is filled with processed sugars, large meal portion sizes, sugary drinks, and high cholesterol foods.
Lack of exercise – According to the CDC, on 1 in 4 U.S. adults meet the recommended physical activity guidelines.
Medications – there are a group or medications that may contribute to obesity (through no fault of the person) but should be monitored by a health professional.
Environment – both the social (racial, ethnic stigmas) and physical (lack of walkable areas or playgrounds, etc.) environments can have a negative effect on healthy weight.
Access – the uneven or outright lack of education resources about the dangers of obesity and its associated chronic conditions is what the World Obesity Day is all about.
Genetics can also contribute to the problem. According to the CDC, "genes give the body instructions for responding to chances in its environment. Variants in several genes may contribute to obesity by increasing hunger and food intake." This is a complicated aspect of the problem because in addition to behavior and genetics, family history also plays a role: grow up with poor food choices? A person is more likely to be overweight or obese.
BMI questions don't negate the obesity epidemic
What potentially complicates the obesity issue for some is how an individual is classified as normal weight, overweight, or obese.
The Body Mass Index (BMI) uses a formula to measure body fat based on height and weight. The BMI was originally developed by Belgian statistician Adolphe Quetelet in the 19th century and is still widely used today (with modern updates of course!). A BMI between 18.5-24.9 is considered normal weight, 25-29.9 is considered overweight, and 30 or higher is obese.
There has been some dispute attached to this formula and its usage. Specifically, it has been argued that the formula doesn't take into account muscle mass, bone density, overall body composition, and racial and sex differences (Medical News Today citing University of Pennsylvania study).
Nevertheless, BMI issues do not affect the overall trend line. Nor do they change the basic fact that more Americans are putting on unhealthy weight through a combination of lifestyle factors.
Nevertheless, BMI issues do not affect the overall trend line. Nor do they change the basic fact that more Americans are putting on unhealthy weight through a combination of lifestyle factors.
Bad news and good news
Unfortunately, the trends are not looking good for the state of our nation's and our world's health—specifically with obesity and its related chronic conditions.
So, what's the good news? Greater awareness of the problem was the first step in confronting the problem.
As previously mentioned, there are national and global organizations that are focused on helping reverse this trend. And awareness campaigns such as the World Obesity Day help to continue to build that understanding.
That growing awareness has led to more programs and groups aimed at addressing this international health crisis. From resources that help people increase their physical activity and improve their diet, to embracing and leveraging technology to plan, track, and coordinate healthy lifestyles, medical treatments, and doctor's visits, these organizations are dedicated to helping improve our country's health.
To learn more about the obesity epidemic, visit the links below:
What's next?
Highlighting the issues surrounding obesity are an important part of solving the problem. Whether using educational resources or health-related technologies, obesity (and other chronic conditions) can be addressed to improve the health of this country and the world. So, as we strive to explore new ways to Think Healthier, Calcium will continue this series on obesity throughout March 2022. More articles on other chronic conditions affecting our nation and the world will also be coming soon.