Reynaldo Villar | 08.24.2021
Since its emergence in the late 1960s, modern plastic surgery has become increasingly popular in the United States. Many would say, it is now commonplace and widely accepted. From celebrities who have been vocal about their cosmetic procedures to reality television shows about plastic surgery addiction, cosmetic surgeries are not nearly as unusual as they were in the past. Today, cosmetic and plastic surgeons offer a wide variety of plastic surgeries and non-invasive cosmetic procedures for nearly every part of the human anatomy. The Calcium perioperative care solution team compared the number of plastic surgery procedures through the years to see how the popularity of these procedures has changed over time. The top entries probably won't surprise you, but the volume of plastic surgeries may.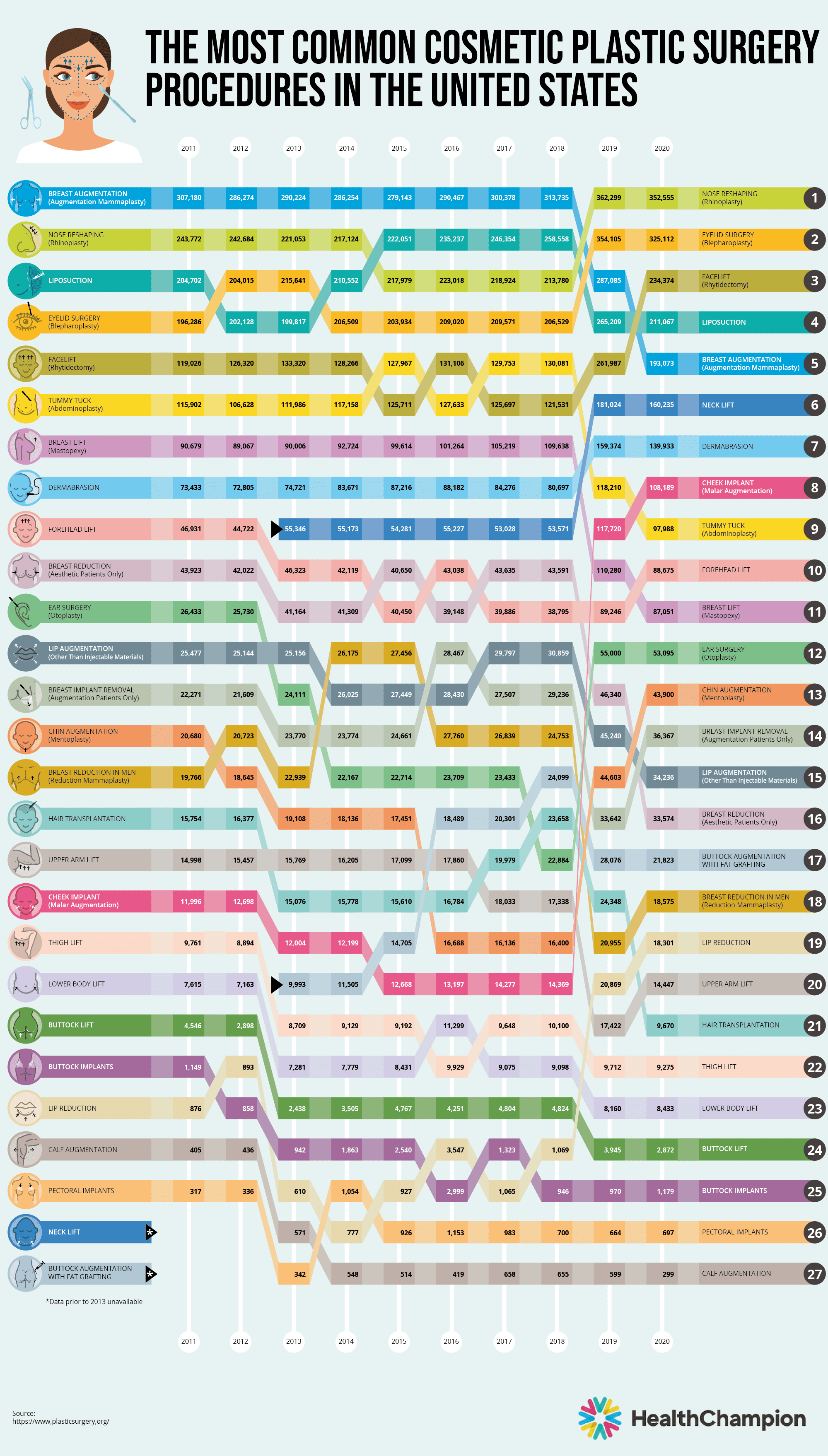 What Are the Most Common Plastic Surgery Procedures?
These were the ten most popular plastic surgery procedures in the United States during 2020 and the numbers of surgeries that were performed that year: :
Nose reshaping (rhinoplasty): 352,555
Eyelid surgery (blepharoplasty): 325,112
Facelift (rhytidectomy): 234,374
Liposuction: 211,067
Breast augmentation (augmentation mammaplasty): 193,073
Neck lift: 160,235
Dermabrasion: 139,933
Cheek implant (malar augmentation): 108,189
Tummy tuck (abdominoplasty): 97,988
Forehead lift: 88,675
It may not be a surprise that rhinoplasty (also known as a nose job) was the most common type of surgical procedure among plastic surgeons in 2020. But this is actually a stark change from previous years when breast augmentations and liposuction were the most popular cosmetic surgery procedures. Rhinoplasties increased by 23% between 2007 and 2020 and went from being the third most popular procedure to the most popular procedure.
Which Plastic Surgery Procedures Have Had the Largest Increases and Decreases in Popularity?
These are the ten cosmetic surgery procedures that saw the biggest increase in popularity from 2007 to 2020:
Cheek implant: 1258% increase
Chin augmentation: 194% increase
Forehead lift: 107% increase
Dermabrasion: 100% increase
Facelift: 98% increase
Ear surgery: 86% increase
Pectoral implants: 58% increase
Lip augmentation: 45% increase
Breast implant removals: 35% increase
Eyelid surgery: 35% increase
Comparable data prior to 2007 was unavailable for following plastic surgery procedures, but they also saw increases in popularity:
Lip reduction: 1,989% increase since 2011
Neck lift: 190% increase since 2013
Buttock augmentation with fat grafting: 118% increase since 2013
On the opposite end of the spectrum, these are the cosmetic plastic surgery procedures that have decreased in popularity compared to 2007:
Hair transplantation: 47% decrease
Breast augmentation: 44% decrease
Tummy tuck: 34% decrease
Liposuction: 30% decrease
Breast lift: 16% decrease
Buttock lift: 13% decrease
Breast reduction in men: 13% decrease
Calf augmentation: 9% decrease
Lower body lift: 2% decrease
Although surgeries like breast augmentations and liposuction saw dramatic decreases over the past decade, they are still among the most common. In 2020, liposuction was the fourth most popular plastic surgery procedure and breast augmentation was the fifth.
The Rise of Non-Invasive Cosmetic Procedures
Non-invasive cosmetic procedures have also been a popular choice through the years. They generally don't involve major surgeries or extensive recovery times, making them a good choice for individuals not ready to go under the knife. This is how the popularity of the most common non-invasive cosmetic procedures has changed since 2007:
Soft tissue fillers: 124% increase
Botulinum toxin type A: 5% decrease
Chemical peel: -9%
Laser hair removal: -16%
Microdermabrasion: -42%
Related: Calcium
Perioperative Solutions