Reynaldo Villar | 02.18.2021
A recent study found that nearly 71% of workers in the U.S. do not feel completely safe in their employers' facilities. The good news is that there are tangible steps that businesses and organizations can take to relieve much of their employees' fears.
It's no surprise to most American workers that so many of their colleagues have legitimate fears about returning to their office, facility, or worksite. While there are now
COVID vaccines
being produced, we are in the midst of the highest death tolls due to COVID we've seen since the pandemic first hit its highs last spring and summer. And those vaccines are still largely unavailable to the majority of American workers. But as businesses and organizations start their process of returning to normal and bringing back workers (or continuing their essential operations), the need to address those fears head-on is greater than ever. Fortunately, there are effective measures that employers can take to address and alleviate those fears – while also improving their ability to safeguard the health and wellbeing of their workforce. I refer to these employer measures as PPPE and, as we'll discuss in greater detail in this post, these are the necessary steps that many companies are already taking to protect their employees. And the byproduct of those efforts can be reduced employee fears about returning to work:
Purpose – remember that the two-fold purpose of your COVID efforts should be primarily focused on (1) preventing the coronavirus from entering your workplace and (2) preventing it from spreading among your workforce if it does manage to enter.
Prevention – understanding your purpose and developing protocols will make it easier to undertake the preparations and planning necessary to better protect your employees and help them feel safer in your facility or workplace.
Protocols – relying on guidelines from their local and state departments of health, as well as the Centers for Disease Control and Prevention (CDC), smart organizations are expanding their employee and policy manuals to document their COVID protocols.
Education – finally, informing and educating your employees about your protocols and protective measures is necessary to get the maximum value from your efforts. This also provides a clear opportunity to address many of the fears your employees may have about returning to your office or place of business.
Easy COVID-19 tracking for your business.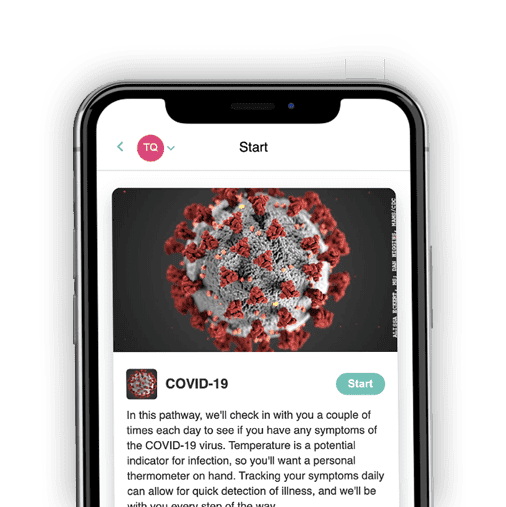 Are you taking it seriously?
Before diving further into these four elements, it's also important to remember that these fears are valid and legitimate. A common complaint I've heard from neighbors and friends afraid to return to work is that their employers don't seem to be taking the COVID pandemic seriously. That may be understandable given some of the conflicting points of view we've heard from various political leaders the past year. But as business leaders, we cannot take the greater risk of treating the pandemic lightly. COVID is clearly not a hoax. Even if you're suspicious of the COVID-related fatalities being reported by the CDC or your local health departments, the deadly impact of COVID on our society is clear. When just counting all death certificates, more than 3.18 million Americans died through the first 10 months of 2020. That's the total number of US deaths, not just COVID. When we compare that to 2019, we see that total deaths in the US for all of 2019 were only about 2.85 million. In other words,
when we look at all deaths, 2020 already saw 334,000 more deaths in the US over 2019 – just through October 2020
. That's a sharp reversal of the downward trend we've been seeing the past decade. And that's roughly the number of people in the US believed to have died from COVID as of October. Even more distressing is that the current COVID-related death toll is greater than the peaks we saw last spring. And it is in this climate that many businesses are trying to bring workers back into their offices, factories, facilities, and work sites.
Purpose
With this data in mind, employers need to accept that their employees have valid concerns about their health and well-being – especially if they have pre-existing
chronic conditions
or vulnerable family members. That doesn't mean that businesses and organizations, as well as our entire economy, don't have important and legitimate demands to bring employees back to work. The challenge is to find the right approach to resolve both your business' demands and your employees' safety. Even with the approval of COVID vaccines, this two-fold challenge will still remain. The good news is that businesses across the nation are finding new, increasingly effective ways to do this during the pandemic. The employer's primary responsibility when it comes to safeguarding their workers and workplaces during this pandemic can be narrowed down to two basic objectives:
Preventing COVID from entering your workplace, and
Preventing COVID from spreading among your workers
As you develop your protocols and implement your precautions, these two basic objectives are important guides for most businesses and organizations. We'll go into more detail on how businesses and organizations are doing this in the "Prevention" section below. Understanding and embracing this purpose also has the added benefit of reassuring your employees (and their families) that your company or organization is committed to protecting their health and welfare. This will go a long way in alleviating their fears of returning to work.
Prevention
With your purpose clear with regards to safeguarding your workplace from COVID, now comes the challenge of developing and implementing your COVID prevention plan. Again, it comes down to preventing COVID from entering your facility and preventing transmission of COVID if it does enter your workplace. As the COVID vaccine becomes more widely available, the vaccine can provide an additional and more effective layer of protection – one that can eventually help businesses return to normal.
Entry prevention
Because COVID is believed to be spread primarily by humans, preventing COVID from entering your facility comes down to preventing anyone who may have COVID-19 from entering. Ideally, this means preventing potential carriers of COVID-19 from getting anywhere near your front door. Consequently, while many organizations have instituted screening protocols – such as taking body temperatures or completing a health screening survey – at their front entrances, that is actually less than ideal. Whenever possible, you want to have people screened before they leave home to come to work. A number of remote COVID screening apps are now available to do just that. These COVID screening apps typically follow CDC guidelines to check for the presence of COVID risk elements:
Recent positive test. The most apparent risk factor is obviously any recently confirmed positive result from a COVID test, usually within the past two weeks. While the exact period when someone may be contagious is not entirely clear, many health departments view two weeks as a reasonable estimate – as long as the individual is exhibiting no symptoms of COVID-19.
Existence of COVID symptoms. Speaking of symptoms, many screening apps and protocols also query users for the existence of any of the COVID symptoms identified by the CDC. Number one among this list is a fever (defined as any body temperature above 100.4 degrees Fahrenheit). The CDC maintains and updates the current list of identified COVID-19 symptoms on its website.
Exposure to COVID: individuals. Another question found in most screening apps regards the employee's exposure to someone who has tested positive for COVID or who may have symptoms of it. This may be incidental, or it may be that an employee is caring for (or has visited with) someone with COVID-19. Either way, this increases the risk that this employee may also have caught it.
Exposure to COVID: geographic. A related exposure question is travel through COVID hot spots. Some states, for example, require their residents to self-isolate for up to two weeks if they've recently traveled through any identified COVID hot spots.
It's important to note that screening individuals to prevent COVID-19 from entering your facilities is not limited to just you and your employees. It applies to everyone who may be entering your facilities – both during and after normal work hours. This means that you'll want to include maintenance, cleaning, and other support personnel among the people you're screening on a regular basis. In addition, vendors and service contractors should also be part of your COVID screening regimen. Again, robust and diligent screening is your first line of defense. But even your screening process can be multi-layered:
Remote screening. By having employees prescreen before they even leave home for work, you not only save the hassle of having to send them home. You actually decrease the risk of COVID entering your facility.
Screening at entrance. In addition to remote screening, some organizations are still doing temperature scans for their employees as they enter the facility to provide an added layer of prevention.
These precautions may seem like a hassle. But for employees legitimately concerned about catching COVID-19 at work and potentially bringing it home to vulnerable family members, these precautions are in fact reassuring.
Easy COVID-19 tracking for your business.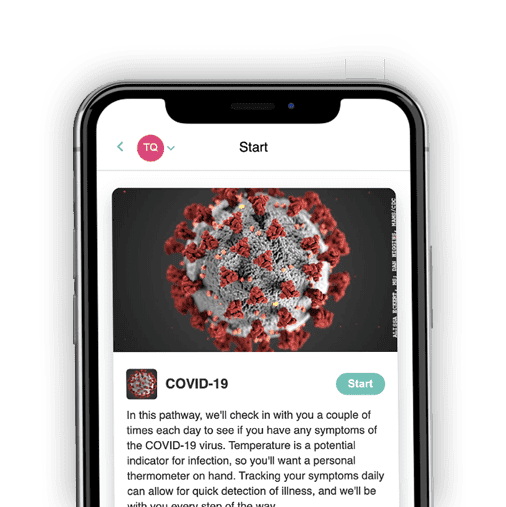 Transmission prevention
Your screening protocols are typically your first layer of defense against COVID-19 in your workplace. The second layer is your measures to prevent the transmission of COVID-19 inside your workplace – in the event that someone with COVID enters your facility. For most employers, preventing COVID-19 from being transmitted between workers (when it has entered your workplace) involves the following measures:
Sanitation. A basic step is increased and improved cleaning of your workplaces especially surfaces of commonly used furnishings and rooms. For example, many businesses who used to only have their facilities cleaned two or three times a week now schedule daily cleanings. Busier facilities now institute more frequent cleanings each day. Plus, these businesses are improving the level of cleaning and sanitation being performed.
Hygiene. On a personal level, employees are being encouraged to pay greater attention to their hygiene. This begins with more frequent hand washing, but also more effective and lengthier handwashing.
Social distancing. One of the key measures promoted by health experts since the very beginning has been social distancing, or keeping workers separated by at least two meters (six feet) of space between them.
PPE. Personal protective equipment covers a range of items, from having sanitizing wipes available at each desk to installing separator walls between workstations to complement social distancing efforts. At its basic, however, PPE means wearing face masks and/or shields, especially if there is more than one person in a room.
Yes, employers are getting complaints from some workers about the hassle of these new requirements. But on the flip side, these precautions will help keep those same workers from catching COVID. More importantly, these precautions will help alleviate the fears other employees have (but may not always voice).
Vaccination
It's been almost two months since the first
COVID-19 vaccine
was approved and began distribution, but only about 12% of Americans have actually received at least one shot so far. Front-line workers and those considered most vulnerable are being prioritized. Consequently, it will take several months before most workers receive their vaccination. Of course, that assumes that your workers do get vaccinated. Vaccinations will probably be the best strategy for safeguarding your employees' health against the pandemic. But how will you securely and confidentially track their vaccination status. This is the new challenge that many businesses must grapple with once their employees have access to vaccines. There has been talk of a vaccine passport, but organizations and companies will need to find a reliable and efficient way to track their vaccination progress.
Protocols
You may already have your COVID-19 protocols developed, documented, and distributed among all your employees. If you don't, it's critical that you develop your organization's protocols asap. For employers, their COVID-19 protocols provide a checklist of steps and actions that they will need to take if there is a breach in their precautions or if someone is flagged during the screening process as having tested positive for COVID, been exposed to COVID, or having possible symptoms of the disease. For workers, especially those concerned about the pandemic and returning to work safely, your protocols can actually be a reassuring tool. A carefully developed and consistently applied set of COVID protocols are documented proof that you're taking both COVID and their concerns seriously.
Education
The last part of your COVID prevention strategy involves educating all your employees and members about your protocols and new procedures. And this is an important factor. Your precautions and measures to safeguard your workers and workplace depends on a great deal of cooperation and collaboration from your employees. They not only need to practice it themselves, but you also need managers, directors and executives to take the lead in ensuring your protocols and procedures are followed. But I recommend using this opportunity to explain the "why" behind your protocols and procedures. By explaining how these steps will help achieve your goals of preventing COVID from entering your facility and from being transmitted within your workspaces, you not only protect your employees' health. You're also protecting their families.
Easy COVID-19 tracking for your business.