Suzi Meschbach | 04.19.2019
The people-driven healthcare movement holds great promise as a solution to today's broken healthcare system.
By empowering patients to take control of their own healthcare decisions and costs, we can improve quality of care, increase the efficiency of our healthcare system and tackle skyrocketing healthcare costs. But to unlock the true potential, we'll first need to tackle the data interoperability issues that plague healthcare today. Interoperability refers to the secure, and nearly effortless, exchange of electronic health information across technology systems. It is one of the biggest challenges facing the healthcare industry. Despite the mass adoption of Electronic Health Records (EHRs), however, most of our health data still sits locked in silos across disparate providers, unable to be acted upon. This lack of integration is a key driver of rising healthcare costs. It's a roadblock to innovation and a fundamental source of frustration for all healthcare stakeholders from hospital executives and their IT departments, to federal agencies and insurance companies, on down the line to physicians and their patients.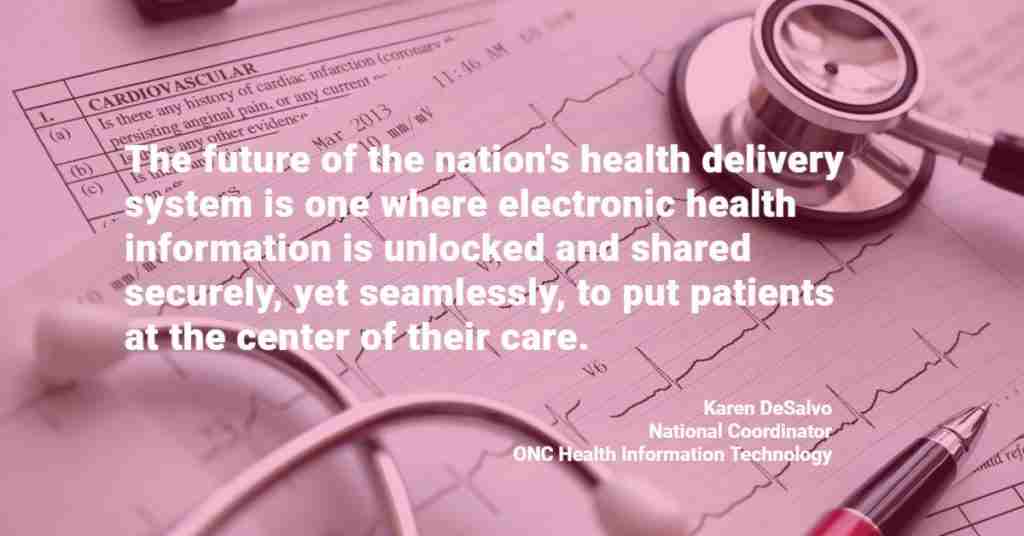 Interoperability challenges stands in the way of realizing people-driven health, leaving patients and their providers without access to the information they need to be informed participants and advocates for their care. According to a recent
Quest Diagnostics survey
, nearly three-quarters of physicians feel they have insufficient information about their patients. So how can we expect patients to take charge of their health when their physicians can't even unlock the data they need?
To truly put patients in charge of their health, we must break down the barriers that are holding back their health information.
Not for Lack of Data
The problem we face isn't a lack of data, rather meaningful access to that data and the tools to make it meaningful to patients and their physicians. Today, more than ninety-five percent of healthcare providers use electronic health records (EHRs) – a digital version of a patient's medical history under that provider – to document patient conditions and overall health. Theoretically, this should make it easier to capture, store, and share patient medical information; however, that's not the case. Each individual's health information is created and stored in numerous ways and places by multiple players in the healthcare ecosystem. Think about doctors' offices, urgent care facilities, hospitals, health insurers, Medicare, Medicaid, nursing homes, dentists, medical specialists, and more. The information recorded for patients by each of these parties is spread across multiple information systems, locations and formats, some even still in paper files.  Sharing the information across these platforms, which were not designed to easily transfer information, is neither easy nor cheap.
App data tidal wave
EHR data is hardly our only source. New forms of patient data have exploded. SO MUCH MORE information about our overall health is now available, and more is being generated every day. Depending on who you ask, there are anywhere between 259,000 and 325,000 mHealth apps (apps enabled by mobile and wireless technology) are available today. These include health and fitness apps, medical diagnostic, management apps, and nutrition apps, which generate potentially valuable information about our health.
Personal history data
In addition, family history and genomics data hold important insights about the prevention and treatment of diseases based on our genetic makeup. The value of this information depends wholly on what we do with it. While people hold more of their health data in their hands today, it is not easy to integrate it across health apps, genomic databases, and EHR systems so that together, it can tell us more about our health than ever before. Lack of interoperability is leaving too much powerful data locked in systems where it can't work together to help patients and their physicians improve their health.
The Problem with EHRs
EHRs have a long-promised future that has yet to deliver. Though frequently touted as the cornerstone to improved outcomes, a tool to reduce administrative inefficiencies, and a conduit to lower the cost of care, the reality is EHRs were never intended as tools for patient care. They were designed as and still exist primarily as a tool for payers (primarily health insurance companies) to get paid – end of story. Should they really be the lynchpin of our medical data strategy? Do patients and providers want to leave one of their most important assets, their data, at the hands of payers?
Physician frustration
Given their intended purpose, EHRs, while the best source of data we currently have, do little to enhance care. In fact, many physicians are frustrated by how much time they take away from patient interaction. Instead of helping doctors, nurses and healthcare providers assess health and coordinate care, the cumbersome system prompts, and coding requirements needed within EHRs add to the red-tape that increasingly fills their days. Moreover, because of interoperability challenges, EHRs only give physicians a slice of the patient's history as opposed to the comprehensive view they need to make the data worthwhile.
Unmet health data interoperability goals
Despite efforts going back more than a decade, federal regulations, standards and incentives, interoperability of EHRs remain a far-off goal. The HITECH Act of 2009 specified that one of the required capabilities of a certified EHR system was "health information exchange," yet today, not even a third of hospitals can meet the key metrics necessary for true interoperability. A recent
Black Book study found
36 percent of medical record administrations reported that they have EHR interoperability issues when exchanging health records with other providers, with more than a quarter noting that transferred patient data was not presented in a useful format. Among hospitals, the study found that the majority, 62 percent, are simply not using information from outside sources because external provider data is not available in their EHR systems' workflow. Perhaps this is the reason only 18 percent of hospitals report that their providers, when treating patients, "often" use patient health information that has been received electronically from an external source.
Why is EHR Interoperability so Hard?
Most other industries have attained a high degree of IT interoperability, but it is much more complex in healthcare. While it seems only natural that data should flow seamlessly, many factors have kept it from happening. HIPAA compliance, data security and patient privacy all play a role. Among the top factors, health systems have not prioritized interoperability. Despite the scope of the problem, 78 percent of hospitals said they have not prioritized or budgeted for improvements in interoperability or patient communications for 2018.
No profit = low priority
Why put resources behind costly and complex IT projects that aren't seen as an immediate boon to the bottom line? Health executives who are under pressure to turn a profit would much rather invest in the development of a new revenue-driving patient care center than in a costly infrastructure project.
Health executives who are under pressure to turn a profit would much rather invest in the development of a new revenue-driving patient care center than in a costly infrastructure project.
Furthermore, there is little business incentive for health providers to make interoperability a success if they can keep patients beholden to them through their data.
Technical challenges
Profits alone aren't the only thing holding health executives back from taking on this challenge. They also face huge challenges presented by legacy systems and platforms, data variability and staff expertise and resources to handle the work on top of routine system maintenance. EHR vendors share in the blame. They have benefited from selling and maintaining complex proprietary systems and have been given little incentive to work together.
Lack of EHR Interoperability Hurts Patients the Most
Patients are left paying the ultimate price for our current state of data disarray. Everything from the cost to maintain IT infrastructure, to wasteful spending on unnecessary tests because records can't be easily shared, trickles down to the patient. Even the incentives offered to health systems to meet standards comes from the consumer in the form of higher taxes. Patients costs for care are spiraling out of control, and they are getting little in return. The greatest cost is their health itself. Sadly, many pay the ultimate price.  
Eighty thousand Americans die every year
because doctors don't have in hand the information they need. Better data flow could enable life-saving cures, more effective care, and healthier patients.
Armed with Their Data, Consumers Will Drive Change
In his HIMMS keynote address, former Google CEO Eric Schmidt proclaimed that the future of healthcare lies in a killer app and that the transition to a better health future will depend on a system of them working together. We are beginning to see that play out, as the explosion of mHealth apps is empowering patients to take charge of their health and offering value that engages them in a way their current EHR does not. These apps are likely to be the fuel for change. As consumers see more value from the data they have in their own hands, they expect more from the health system and demand integration. They no longer have patience for shortcomings in hospital interoperability. According to the
2018 Black Book EHR User Survey results
, 92 percent of younger healthcare consumers were dissatisfied with their inpatient provider experience, where complete medical records were not offered. Consumers under the age of 40 were also more likely to desire reliable technological options at their provider. 84 percent said they are looking for the most technologically advanced and electronically communicative provider. We are hitting a tipping point where consumer demand for solutions is forcing industry change. The attitudes of today's health consumers will impact the health decisions they make and the providers they choose, eventually putting downward pressure on the health system to change or become irrelevant.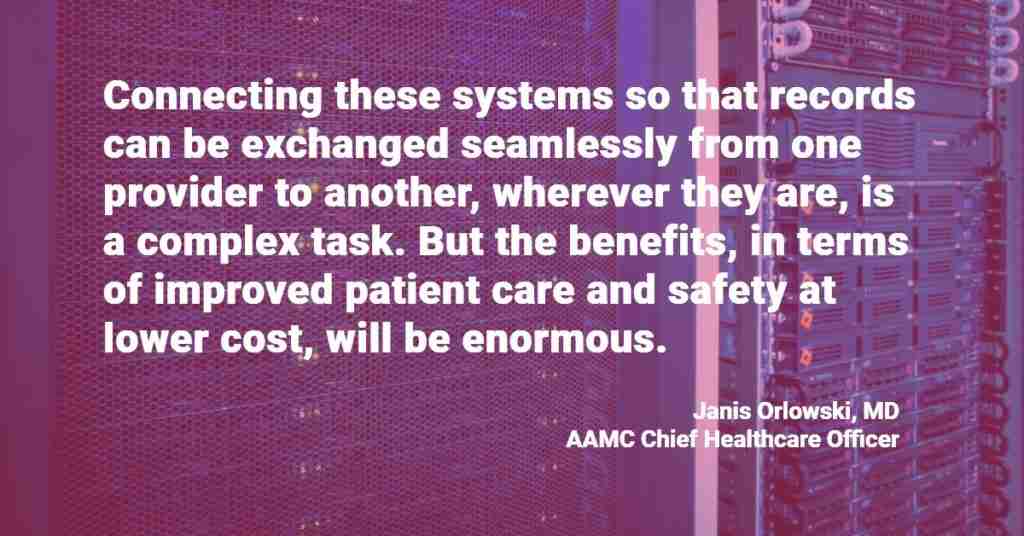 Progress is on the Horizon
While it's most likely that patients themselves will lead the charge to enable data as part of a successful patient-centered care movement, 2018 has been an astounding year for progress driven by policymakers, healthcare leaders and emerging technologies. Though the industry has grappled with the interoperability for more than a decade, there have been several signs that change is now coming more rapidly. The pieces are beginning to fall into place, and the industry has coalesced to the fact that true data interoperability is essential to advance innovation, patient satisfaction, better outcomes, and its financial viability.
Policymakers are Taking Further Action
Policy makers are using their leverage and managed platforms to bring about much-needed change to policy, as well as to innovate new programs and platforms. With 130 million beneficiaries, the Centers for Medicare and Medicaid Services (CMS) is uniquely positioned to help drive transformation, and the department is calling on private health plans to follow their lead. Just this year, CMS has already overhauled the EHR incentive programs to prioritize and reward interoperability. To qualify for federal incentive payment, providers will need to use 2015 edition certified EHR technology, to demonstrate meaningful use and qualify for payments by 2019. This includes the use of APIs, which have the potential to improve the flow of information between providers and patients. CMS is also advancing the MyHealth EData initiative and rolling out the Blue Button program. These initiatives make it possible for patients to collect their health information from multiple providers and incorporate all their health information into a single portal, application, program, or other software. CMS also announced the launch of a Data Element Library (DEL), a new database that supports the exchange of electronic health information. It will allow the public to access the specific types of data that CMS requires post-acute care facilities, such as nursing homes and rehabilitation hospitals, to collect. It already allows Medicare patients to download and print their health records and will aid portability as developers work with Medicare to create apps that will make patients' records shareable. At launch, more than 600 developers had already signed on to the initiative. Much to the delight of providers, CMS has also taken steps to simplify coding and patient records for physicians. Among the changes, physicians are now only required to document any new problems or new aspects to a patient's family history as opposed to documenting the entire history at every visit. For an organization that has a perception of bureaucracy and being slow to adapt, it is moving quickly to modernize government health programs.
New Technology is Speeding Progress
While technology changes can sometimes hinder progress, emerging technologies are finally helping to advance the cause of interoperability. From artificial intelligence (AI) to application program interfaces (APIs) and blockchain, there are new standards, platforms and capabilities to help healthcare IT professionals advance the cause.
Cognitive computing can go beyond what traditional data analytics systems have been able to do to distill both structured and unstructured data to form meaningful insights for decision makers.
APIs are being used more and more to interact with health systems. This is a critical first step to allowing the appropriate flow of information across healthcare stakeholders and allowing patients and health systems to connect their data together.
While it will take time to realize the promise of these new technologies fully, it represents progress, and EMR vendors and healthcare IT teams are stepping up and demonstrating their commitment to implement.
Health Leaders Embrace New Possibilities
There is a growing understanding that individual health systems will need to work together and cooperate. If nothing else, as payments become increasingly tied to patient outcomes, health executives will have more skin in the game knowing this can only be achieved with true interoperability. And while far too many remain out in the cold when it comes to budgeting, planning and implementing compatible systems, a handful of leaders have emerged with a new and exciting outlook on what is possible. They are paving the way in their approach to interoperability and are innovating at a breakthrough pace that should serve as a model to other systems moving forward. Groups like the National Academy of Medicine are also taking a stand on the issue with
recommendations for IT purchasing and procurement that emphasize interoperability
above all else. To ensure that healthcare dollars are spent in pursuit of healthcare delivery systems reaching desired levels of care quality, safety and efficiency, they are advocating for health systems to establish purchasing strategies that demand functional, system-wide interoperability and that they move away from buying siloed systems and instead look to technologies that operate on open, vendor-neutral platforms.
Interoperability Will Be Worth it in the End
While interoperability is no small task, it's every bit worth pursuing. With the seamless flow of data, we can finally realize the full potential of people driven healthcare. A successful sprint to the finish will require the cooperation of all stakeholders working together with renewed optimism for what's possible. Health leaders and tech giants must unite in innovation to help America's healthcare system reach its full potential, fueled by data to lower costs and drive better outcomes. Their efforts to advance access and exchange of information will make our health system work better for those who matter most – the people.