Reynaldo Villar | 03.17.2022
Obesity is getting worse despite increased knowledge of the problem
In observance of the March 4 World Obesity Day, Calcium began a three-part article series concerning the obesity epidemic in the U.S.
Our first article, World Obesity Day: Why We All Need to Move Beyond Awareness to Action, discussed the growing obesity problem that the U.S. and much of the developed and developing world currently faces. In this second article of the series, we turn our focus on some of the leading causes of this epidemic and why it seems to be getting worse.
Understanding the root causes of the American obesity epidemic
Americans have been getting
bigger over the past 150 years
.
In a review of the evolution of BMI values among U.S. adults, researchers found U.S. Military Academy (West Point) records from 1879 indicating that their 18-year-olds had an average BMI of below 20.
Just 40 years later, average BMI for 18-year-olds at The Citadel Military Academy was just above 20.
But 30 years later, in the run-up to WWII, average BMI for 18-year-olds at the Citadel had risen to 22.3 – an average gain of over 15 pounds.
By the 1980s, American 18-year-olds had average BMIs of around 24.2 – an additional gain of another 13+ pounds
Today, the average BMI for American 18-year-olds is 26.1!
Something happened in the last 50 years especially to drive this "hockey stick" increase in average BMIs – and the trend toward obesity.
Obesity source #1: Fast food tends to be fat food
One stark correlation that has become clear for many healthcare researchers is between fast foods and obesity.
Before the late 1960s, most people ate at home. And even the restaurants and diners that were available generally served healthier foods than fast food establishments.
The problem with fast foods is that it changed the foods we ate – both outside and inside the home – for the worse.
In a 2003 study on obesity published in the Journal of Economic Perspectives, Harvard University professors David M. Cutler, Edward L. Glaeser and Jesse M. Shapiro looked at the example of the ubiquitous potato.
Prior to the rise of the fast food craze in the 1960s and 1970s, Americans ate a lot of potatoes. But most of the potato they ate were baked or boiled.
Fast foods pushed more of our potato consumption toward fried potatoes – symbolized by the French fries.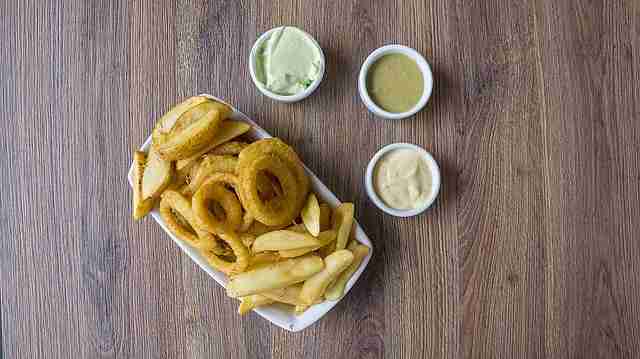 On any given day, more than one-third of American adults ate at least one meal from a fast-food establishment. With younger adults the rate was almost 50%.
Obesity source #2: Bigger portions leading to bigger sizes
According the U.S. Department of Agriculture, caloric intake among American adults shot up by 20% between 1983 and 2000 – much of that increase was driven by a rise in meat consumption.
In fact, American meat consumption has increased by nearly 40% between 1961 and 2017. Today, Americans consume an average of 274 pounds of meat each year – the equivalent of a morbidly obese American of average height.
Americans are consuming more calories than they need. Livestrong provides a vivid example of how these unnecessary calories directly impact our weight:
Fancy coffee drinks, half a cupcake or a 20-ounce bottle of soda all typically contain at least 250 calories.
Eating an additional 250 calories per day will lead to a 26-pound weight gain within a year!
Obesity source #3: Our increasingly sedentary lifestyles
Technology has helped make us more productive and transformed the way we work.
In 1960, nearly half of all jobs in the U.S. required physical activity. Today, only about 20% of jobs require any physical activity.
Combined with our increased caloric intake, this decrease in activity has created a dangerous combination that has been making it more difficult for Americans to avoid excess weight.
Additional factors
There are a host of additional causes for obesity and its associated chronic conditions. Even the negative perceptions of overweight and obese people can have an effect. The causes below have been (and continue to be) studied by researchers around the world.
Early life and obesity
The search for an answer to the issue of obesity should begin at birth. A study done on the link between breastfeeding (versus formula feeding) and the lowering of obesity risk in children was done in 2014. The conclusion showed that "breastfeeding is a significant protective factor against obesity in children." The Centers for Disease Control and Prevention (CDC) maintains a dedicated website on breastfeeding through the Division of Nutrition, Physical Activity and Obesity and shows that this method of feeding is part of a goal of "improving the public's health."
Healthy choices
Naturally, families in the same household will generally have the same eating and exercise habits. Parents that don't prioritize regular physical activity and healthy eating run the risk of contributing to an obese child. So, in addition to breastfeeding, other early feeding habits can have a positive or negative effect on preventing obesity. Developing a taste for healthy, natural foods contributes to an overall healthy lifestyle. Fruits, vegetables, and lean protein are all important parts of a healthy diet and, when coupled with regular physical activity, can prevent obesity and its associated chronic conditions that have put a strain on families and our healthcare system.
Access
According to the CDC, each year in the United States, 70% of all deaths are attributed to some of the chronic diseases discussed in this article (diabetes, heart diseases, stroke, etc.). The lack of access to healthy foods as well as the active promotion of foods high in fat and processed sugars, contributes directly to obesity and by extension, these chronic diseases. Minority communities are often the ones that lack convenient, affordable, high-quality food sources.
Environment/Planning
Poor community planning also contributes to the obesity epidemic is the environmental planning in many communities across the country. The lack of bike paths, walking trails (or even sidewalks), playgrounds, or safe and maintained parks, are all examples of poor community planning. Children and adults need to have easy access to places to walk, run, ride a bike, and just generally stay active to help lower, if not prevent, obesity and maintain a healthy weight.
Stigma
Though this may not necessarily be a cause of obesity, it is a by-product that cannot be ignored. The stigma of being overweight could play a part in obese people not trying to improve their condition. Going to a public gym to exercise may cause a great deal of consternation due to unwarranted staring or negative jokes. Obese people, according to research published in the American Journal of Public Health, are stigmatized as "lazy, weak-willed, unsuccessful, unintelligent, lack self-discipline, have poor willpower, and are non-compliant with weight-loss treatment." Further, public health professionals should consider this stigma as both a "social justice issue and a priority for public health."
It's going to get worse – unless we act and get active
Studies continue to seek the causes of the worldwide obesity epidemic. There have been hundreds of papers written, studies conducted, and conclusions reached, but unfortunately, the problem is getting worse. Even with all of the information available about the risks of obesity, the chronic conditions associated with it, and the global nature of the problem, it's expected that:
by 2030, almost half of U.S. adults will be classified as obese
medical costs to treat obesity and associated conditions could increase $48 to $66 billion per year
According to University of Florida endocrinologist, Kenneth Cusi, the roots of obesity in America also expose the reason it's getting worse. "Obesity's roots are in American culture, from the stress of the workplace to the onslaught of food advertising, to our tradition of holiday overindulgence," said Cusi. "The taste buds of our youth are raised on junk food and sugary treats, habits that follow children into adulthood."
The expectations to work and play hard, the social and product messages that inundate our daily lives, and the higher levels of stress from external events (economic troubles, conflict, pandemics, etc.), can lead to making poor food choices and neglecting proper exercise. Feeling stressed all the time increases cortisol production which can lead the body to hold onto fat stores. Without proper nutrition and exercise, this excess fat leads to overweight and obese conditions.
Working together
There have been many proposed solutions to the obesity epidemic, though no single one will solve the problem. Our health care providers, government leaders and policy makers, educational and research institutions, and private businesses have to work together to find or develop and implement programs that help as many people suffering from this epidemic.
In the third and final article in this series, we'll discuss some tools to help with this global problem. Using every available tool at our disposal is what it will take: educational resources, technology, public policy, and community planning. Advancing solutions for the obesity epidemic is vital for improving the health and safety of our nation's children and families.