Reynaldo Villar | 01.29.2021
When it comes to visiting clients or vendors, how do businesses keep their workers and facilities safe from potential COVID exposure?
As a business leader and manager, you have two fundamental challenges when it comes to safeguarding your employees during this coronavirus crisis:
Do everything you can to prevent the COVID virus from entering your worksite or facility
Do everything you can to prevent COVID from spreading among your employees if it does manage to enter their workspaces
Allowing visitors to your offices, factories, shops or worksites presents an extra challenge. During the height of their COVID lockdown, many businesses sent their workers home to work remotely and closed their offices, so they didn't have to worry about visitors very much. Many essential businesses, however, didn't have that luxury and had to remain open, albeit with extra precautions such as social distancing, extra sanitizing, and personal protective equipment (PPE) requirements. Whether you're an essential business opening up to more visitors or a facility bringing employees back to work (and allowing vendors or clients to visit), your two fundamental challenges remain the same as long as the risk of COVID infection is present. How do you prevent the coronavirus from entering and spreading in your workplace – even as more visitors increase the chance of exposure.
Easy COVID-19 tracking for your business.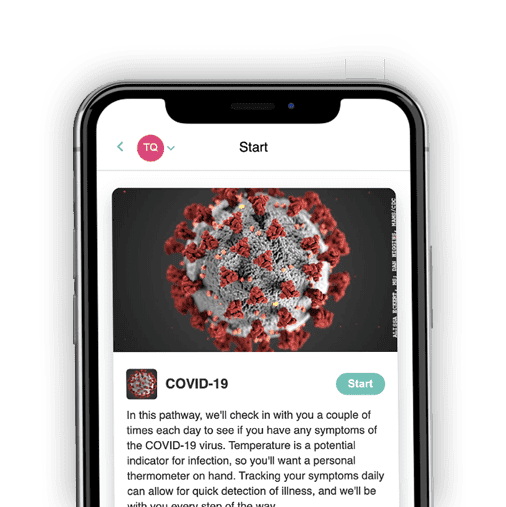 What Many Businesses Have Already Been Doing to Protect Their Workers
As mentioned above, many businesses protected their workplaces and workers by simply requiring their employees to work remotely. This was an easy call for many office-based workers. For the businesses that remained open or began to call their employees back into the office, new protocols were necessary:
Screenings. To help prevent COVID from entering their workplaces, many businesses began instituting a daily screening process to prevent anyone from entering if they had recently tested positive for COVID, many have been exposed to COVID or have symptoms related to COVID. While many small companies and organizations used simple paper or online forms, larger and enterprise companies used HIPAA-compliant COVID screening apps instead.
Improved hygiene and sanitation. Businesses increased their cleaning and sanitation regimens to prevent COVID from spreading inside their facility. These steps often included sanitizing supplies for every room or employee. But it often also included encouraging their employees to similarly practice increased hygiene standards.
Masks. While there had been some confusion about the efficacy of masks, subsequent studies have shown that masks can help limit the spread of COVID. As the Centers for Disease Control and Prevention (CDC) notes, masks are primarily helpful in preventing the emission of virus-laden droplets from individuals who may or may not know that they are infected and infectious. But they also do help protect individuals from inhaling those same virus-laden droplets.
Social distancing. While there has been some conflicting research on the right amount of social distancing, there is little to no disagreement that social distancing does help in preventing the transmission of the virus. The original World Health Organization (WHO) recommendation of maintaining a three-foot distance is based on research that is over 80 years old. A more recent study during the SARS epidemic of the previous decade showed that the spread of the virus on a single airplane flight was limited to those individuals within six feet of the initially infected traveler. And while a recent MIT and Oxford University study showed that COVID can travel up to 26 feet.
While none of these precautions may prove satisfactorily effective by themselves, they are proven to help in
preventing the transmission of COVID
when practiced together. Nevertheless, while social distancing is crucial to limiting further transmission of the virus, social interaction is an important part of maintaining emotional and business relationships. Video conferencing via Zoom, Microsoft Teams or Google Meets can help bridge the gap, but many business relationships do require actual physical meetings.
Essential and reopening businesses also face important if not fundamental changes in their supply chains and especially in business-client relationships. Even during the pandemic, companies and organizations urgently need to communicate the message that they are open for business – especially with their existing or prospective clients.
Business owners, leaders, and managers are already finding new ways to align the challenges of safeguarding their workplaces and workers with the challenges of addressing the needs of their clients and vendors. As all entrepreneurs know too well, their client's satisfaction, as well as their relationships with their vendors and suppliers, will go a long way in determining how effectively their businesses can succeed – particularly after we've contained this pandemic.
Understanding the Risks of In-Person Meetings
During this global pandemic, it's important to remember that social distancing does not mean withdrawing from employees, clients, or vendors. These clients and vendors may currently be in self-isolation or in quarantine, but it does not impede staying connected and continuing to provide excellent service whenever possible. Sustaining clients during this pandemic means maintaining consistent communication and this can be achieved without interrupting social distancing policies. It could be through the use of text messaging or direct messages on social media, videos, email, or any digital platform recommended for conferencing. All of these tools reduce the need for in-person meetings and other personal contacts as it is not recommended to meet clients or have visitors come into the workplace. The workplace should be reserved for only employees who need to be there on-site. As much as possible, if the business is in operation, any visits to the clients should be discouraged, and vice versa. COVID-19 has a greater risk of spreading if a higher proportion of people who visit the workplace are from a different location. The coronavirus transmits through infected individuals who have mild symptoms, no developed symptoms, or those who have not yet been tested. The risks could be evident if:
Your employees have close personal interactions with clients, and these clients have close interactions with other clients. Workplaces with a higher number of contacts presumably are at a greater risk.
Your employees have lengthened physical interactions (beyond fifteen minutes) with clients, and these clients have lengthened physical interactions with other clients. Person-to-person virus transmission is very likely with longer interactions.
Consequently, even if your business runs a tight ship when it comes to protecting employees from infection by other employees, each non-employee visitor to your facility or worksite creates a new opening for the entry and spread of COVID-19. Because each new visitor may have been exposed to COVID at least once (maybe several times) in the hours or days before coming to your facility, each visitor may be a potential source of infection. To mitigate the risk of potential entry and spread of COVID-19 to your workplace from any workplace visitor, businesses must also develop and maintain protocols for visiting clients, vendors, and other individuals. It's also important to remember that your visitor protocols not only help safeguard the well-being of your own employees and staff. Your visitor protocols can also help protect your visitors from COVID-19 if the infection is already present in your facility.
Screening Protocols for Visitors and Clients Coming to the Office
As with your employees, one of the two basic challenges that business owners, leaders, and managers face with visitors is to prevent COVID-19 from entering their offices, worksites, or facilities. That means screening and isolating visitors just as efficiently and effectively as you
screen your own employees
– each time that visitor enters your workspace. While different employers have varying screening requirements, most businesses and organizations ask questions to address these three particular categories of COVID exposure threats:
Confirmed infections. At least one of the screening questions should ask whether the visitor has tested positively for COVID-19 in the past two weeks, which is an average incubation and infection period commonly used.
Exposure to individuals with COVID infections. The second group of questions involves exposure to individuals with COVID infections. Some exposure is known, such as when someone is exposed to a family member who has tested positive for COVID. Other exposure may be unknown, such as when individuals go out in public. For example, some states have required residents who travel through known COVID hot spots (such as states with high infection rates) to self-isolate for up to two weeks upon returning to their homes.
COVID symptoms. The final type or group of screening questions examines possible COVID symptoms that the person may have. The CDC maintains a list of known COVID symptoms that most businesses, organizations, and employees typically use for these symptom screenings. Top of the list of COVID symptoms noted by the CDC is fever – which is defined by the CDC as any temperature over 100.3 degrees Fahrenheit.
Many businesses have turned to
HIPAA-compliant screening
apps to provide a convenient way to screen employees, as well as visitors, entering their facilities and worksites. While some employers do ask for a body temperature reading, many don't bother, because most symptom screening questions ask about the presence of a fever – which is the main reason to ask for a temperature reading. However, some employers (such as healthcare providers and medical institutions) will set a lower threshold for their definition of a fever or fever-like symptoms. Finally, the increasing availability or use of the COVID vaccine means that much of the regular screening may be avoided or replaced. Many businesses and organizations are starting to ask whether an employee or visitor has recently been vaccinated for COVID. And some are considering requiring it for returning workers. It's important to note that
vaccination does not mean that the vaccinated person is unable to be infected
or, just as important, infect others. The currently approved vaccines do lower the severity of COVID symptoms and help the body fight any infection. But they are currently believed to be 95% effective. That means that 5% of vaccinated individuals may still get infected. Visitors who do not pass the screening questions should be prohibited from entering the premises or remain in the screening/ common areas until further notice. In some cases, however, based on the exposure to risk or their symptoms, these visitors would be advised to self-isolate. Individuals who passed the screening questions and are permitted to enter the premises should be required to proceed onto cleaning, disinfecting, and engaging safety protocols within the workplace. This involves the use of hand sanitizer which should be provided, wearing a mask, and the appropriate personal protective equipment (PPE), as required/recommended.
Social Distancing for Visitors
Once a visitor is cleared to enter an organization's facilities, that company or business now needs to address the challenge of continuing to prevent the spread of the coronavirus within its worksites or workplaces. Passing the COVID screening does not mean that the visitor is free and clear of the virus, and it doesn't completely eliminate the risk of that person bringing the virus into the facility. And even if the visitor is free and clear, companies and organizations also need to limit that visitor's exposure to possible COVID infection that may already be in the facility. While the COVID pandemic remains a threat, businesses need to take steps to limit the visitor's exposure to the greatest extent possible. One of the most important methods is social distancing, along with increased access restrictions. Here are visitor social distancing tips that businesses are using today:
Access restrictions. One of the top ways to limit exposure is to limit access. For example, for visitors attending a visitor in your facility, consider setting aside a conference or meeting room near the entrance just for visitors. Avoid using that conference room for normal intra-office meetings, so that room doesn't become a transmission exchange source. Similarly, vendors delivering supplies should be restricted to the areas needed to complete their delivery.
Spaced seating. Limit the capacity in meeting rooms by removing seats from designated meeting rooms. You should then space the seats to achieve the six-foot social distancing recommended by health authorities.
If your visitor needs to tour your facilities, try to maintain sufficient distance between the visitor(s) and your employees, as much as possible. During such tours or increased access to your facility or worksite, you will also need to pay special attention to hygiene and the use of PPE.
Hygiene & Personal Protective Equipment (PPE) Tips for Visitors
As noted above, social distancing helps but is not enough to prevent the spread of COVID, especially in confined spaces. Much of the hygiene and PPE protocols businesses utilize with visitors normally parallel the same protocols they have with employees, often with more precautions. Here are common hygiene and
PPE precautions that businesses are using
to safeguard their visitors, as well as their employees and workplaces:
Many businesses are posting reminders and instructions at their entrance, receiving areas, and meeting rooms, reminding visitors of their safety protocols. This often includes reminders about mask usages, sanitation, and social distancing.
PPE and sanitizers. Visitors should be asked to sanitize their hands upon entering and issued a face mask if they don't already have one. This should be done as soon as they enter your facility.
Cleaning and sanitizing. Businesses should stock their meeting rooms with cleaning and sanitizing equipment so that the room can be cleaned regularly. Beyond the daily cleaning most rooms get, businesses and organizations should sanitize the surfaces of meeting rooms after or before each visit.
Returning to "Normal" with Caution
Until the pandemic is brought under control through a combination of vaccination, social distancing, and greater attention to hygiene, businesses have no choice but to navigate their return to normal as carefully as possible.
It is possible to resume many of the events and procedures we had before COVID-19 emerged. But businesses and organizations cannot afford to be reckless. It's critical that any return to work, let alone to normal, be done with preparation and precautions. The precautions described above may be a hassle, but they do allow companies to begin opening their doors, when possible, to vendors, clients, and other visitors. More importantly, taking these precautions will help our communities and economy finally contain COVID-19 – and start returning to normal for real.
Easy COVID-19 tracking for your business.