Reynaldo Villar | 06.02.2020
While not foolproof, daily employee pre-screening for COVID-19 symptoms is important for lowering the risk of exposure for all employees
The need to transition back to work is clear for most businesses. But how can businesses re-open or continue to operate safely when we're still in the first wave of this pandemic? The answer will probably be found in the ability and commitment that each business has in protecting its workers, as well as its customers. The COVID-19 pandemic, caused by a novel coronavirus, has already sickened 1,787,680 and killed over 100,000 people in the United States, as of June 1 (NCIRD, 2020). While many states have "flattened the curve" through aggressive "stay at home orders," the nation continues to see an increase in COVID-19 cases and deaths. The Centers for Disease Control and Prevention (CDC), along with many states, have set out stringent but effective guidelines for businesses that want to "go back to work" with more employees in their offices or worksites. For most business, it comes down to two basic challenges:
Prevent the spread of the virus within the workplace.
Prevent COVID-19 from entering the workplace.
We will review the guidelines issued by the CDC and many state and local departments of health for first challenge of preventing the possible spread of COVID-19 inside the workplace. However, the bulk of this article will focus on employee screening strategies and tools that employers can use to prevent COVID-19 from entering their offices, plants, facilities and other worksites. Note that with both challenges, businesses today have no foolproof way to completely stop the entry or spread of COVID-19, when they begin bringing employees back to work or continue their essential business operations. But the right strategies, protocols and tools may help employers lower their risk of exposure to manageable levels.
The basic approach for preventing the spread of COVID-19 inside the office, plant or workplace revolves around the basic concept of lowering the risk of exposure as much as possible.
Preventing the spread of COVID-19 inside the workplace
Reopening your business in a time like this can seem like a Herculean task. In many areas, businesses are just being given the green light to allow employees back to brick-and-mortar facilities. After over two months of closures, employers are left wondering how they are to prepare for the task of keeping everyone safe, while managing to keep their businesses afloat.
Easy COVID-19 tracking for your business.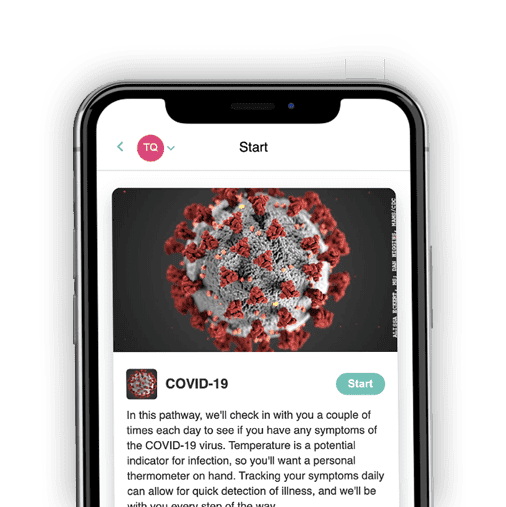 This can be a challenging time, mentally, for employees also. Ensuring their safety by creating and implementing a strong "return to work" plan and using research-based preventative measures is the first step in returning to our daily lives. The basic approach for preventing the spread of COVID-19 inside the office, plant or workplace revolves around the basic concept of lowering the risk of exposure as much as possible. This often involve six essential practices:
Application and practice of social distancing
Consistent and diligent cleaning, especially in public areas
Regular use of disinfectants, especially in workspaces and shared rooms
Monitoring for possible outbreaks or exposure in the workplace
Development and use of protocols for dealing with possible exposure
Training all employees in improved awareness and hygiene
According to the CDC, "reopening America requires all of us to move forward together by practicing social distancing and other daily habits to reduce our risk of exposure to the virus that causes COVID-19." What does moving forward look like, you ask? The United States Government issued a plan that focuses on cleaning and disinfecting public spaces, workplaces, and businesses in hopes that we can resume some sense of normalcy in the near future. An important thing to note is that these specific guidelines will vary from state to state. Employers must, therefore, check with their local and state health departments before returning to business as usual. An overview of how each state plans to reopen is available from the New York Time's website. This source provides an interactive map to view each state's plan to reopen, which is a valuable resource for many business owners.
Preventing COVID-19 from entering the workplace
Daily COVID-19 employee screening will play a critical role in allowing employees to safely return to work. It is the cornerstone of every organization's or business' efforts to prevent COVID-19 from entering their workplace in the first place. But how much is enough? And as the full range and impact of our screening options become more apparent, how much is too much? At Calcium, I've had the opportunity to speak with dozens of employers about their experience and continuing challenges, as they tried to prevent COVID-19 from entering their workplaces. This has allowed us to quickly develop our COVID-19 employee screening app and bring it to market through our existing Calcium app. Through these discussions with businesses and organizations, primarily with their human resources directors and managers, we found that employers shared the same basic challenges and needs when it came to screening their employees for COVID-19 symptoms:
Reliable criteria
Easy to use for employees
Easy to use for employers
Reliable COVID-19 employee screening criteria
While specific requirements vary from state to state, almost all employers agree that any screening system be based on CDC guidelines. Specifically, the screening process should check for the most common symptoms highlighted by the CDC. These CDC-recommended symptoms include…
Fever or chills
Cough
Shortness of breath or difficulty breathing
Fatigue
Muscle or body aches
Headache
New loss of taste or smell
Sore throat
Congestion or runny nose
Nausea or vomiting
Diarrhea
Easy COVID-19 tracking for your business.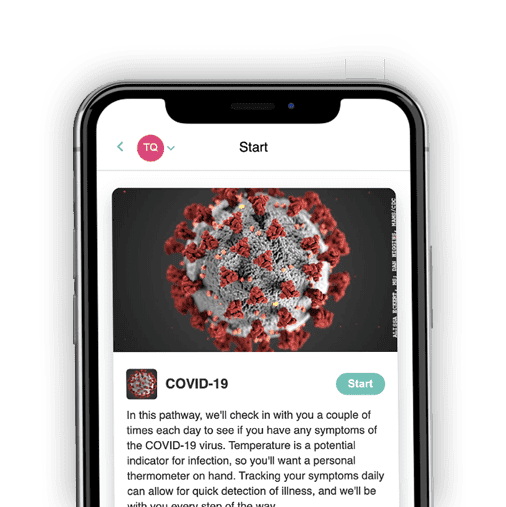 According to the CDC and federal regulations (42 CFR parts 70/71 Final Rule), a fever is defined as a thermometer reading of 100.4 °F [38 °C] or greater.
One of the keys to improving participation and compliance is to make it easy for employees to pre-screen themselves.
Note that there are other symptoms of COVID-19, but these are the symptoms recommended by the CDC for most screenings. These symptoms tend to occur two to 14 days AFTER a person has been exposed to the novel Coronavirus. And about 80% of confirmed COVID-19 cases showed only mild or moderate symptoms, according to the CDC. Published studies support the claim the claim that many individuals with COVID-19 are asymptomatic, or show no symptoms that they have COVID-19. The percentage of asymptomatic COVID-19 cases range from 40% to 81%, according to various studies. So, while a symptom screening program does help, it must be coupled with an effective strategy for preventing the spread of COVID-19 inside the workplace. The screening program must also go beyond symptoms. For example, COVID-19 employee screening programs should also ask non-symptom questions that may indicate a higher than normal likelihood of having the Coronavirus, such as…
Whether the employee has been in contact with someone who has tested positive for COVID-19.
Has traveled to other regions or locales, especially areas that are experiencing new outbreaks of COVID-19 cases.
Has been in large group settings that may have exposed them to someone who may be infected with COVID-19
Easy (and safe) to use for employees
A successful employee screening program requires consistent participation and compliance by employees. And one of the keys to improving participation and compliance is to make it easy for employees to pre-screen themselves. Some keys to simplifying the COVID-19 self-screening process for employees include the following:
Pre-commute.

 

Ideally, employees should conduct their pre-work screening BEFORE they leave home for work. In addition to avoiding the commute to work, it decreases the chance that they may expose their co-workers.
Timely reminders.

 

If conducting pre-work, pre-commute COVID-19 screenings, it helps if each employee receives a reminder before they leave for work. In the rush to get out the door for work, it's too easy to forget important steps.
Quick screenings.

 

The self-screening process must be easy and quick to complete. A well-designed app, for example, can allow workers to complete their daily COVID-19 screening in about one minute.
Accessible.

 

If using paper forms, faxing the completed forms back to the employer may be difficult or impossible. And while an app is convenient, not every worker may have an available Internet-enabled smartphone. If you're using a COVID-19 screening app, make sure that it's accessible via a browser on someone's personal computer or tablet.
Many businesses and organizations who have started with paper or manual procedures have moved to apps, because of the ease of use that well-designed apps can offer. Another very important reason to conduct at least part, if not all, of the COVID-19 employee screenings before they leave for work is to avoid the problem of massing people at the entrance. Creating groups of unscreened employees increases the risk of exposure for everyone in those groups – as well as creates a risky bottleneck inside the facility itself. Conducting pre-commute screenings for COVID-19 may not fully eliminate the need for some screenings or temperature checks to be done at the worksite, facility or office. But it has the potential to drastically reduce the need for onsite checks.
Easy to use for employers
Many employers have relied on paper forms to conduct their employee pre-screening. This is an effective method for many very small businesses that only have a handful of people. But the limitations (and hassles) of using paper screenings quickly becomes apparent:
Time consuming

 

– you have to prepare, distribute, complete and receive those forms, typically at the workplace.
Storage

 

– depending on your state's requirements, you now have to manage and store all those paper forms.
Security

 

– because you're dealing with employee health data, you have to make sure that they're kept secure and confidential.
COVID-19 screening with online forms: pros and cons
The next option for many employers, especially those with more than a few employees is to use an online form. If you have tech-savvy individuals on staff, they can easily create a screening form with Survey Monkey or Google Forms. Using online forms is fairly straightforward, but they're not always the most user-friendly – especially for administrators. Unfortunately, these surveys quickly become cumbersome as you have more users. You also still have the critical challenge of making sure that your survey process is HIPAA compliant.
Many organizations have multiple locations, teams and departments; and the ability to group their screening records, admins and alerts is critical. This is a must for organizations with more than 100 employees.
What to look for in a COVID-19 screening app
Increasingly, many businesses are starting to use apps, which have started to emerge in the spring as COVID-19 took off. One COVID-19 screener for business which has received a great deal of press is the ProtectWell app, a joint project by UnitedHealthcare and Microsoft. It's a simple app that covers the basics. The Calcium employee screening app, on the other hand, was built on the existing Calcium digital health platform. Calcium had launched its consumer app in the summer of 2019 and has been available for download from both Google Play and Apple App Store. Coincidentally, Calcium had already been developing a patient engagement and remote monitoring program for healthcare providers, especially accountable care organizations (ACO). When COVID-19 emerged, the Calcium team realized that they could quickly use their platform to develop a robust COVID-19 screening solution for employers. Regardless of which app you use, here are some of the features many employers report as important for a reliable solution:
HIPAA.

 

Top on the list for many employers is the issue of HIPAA compliance. Effective COVID-19 apps must ensure that protected health information (PHI) is actually protected.
Mobile and PC.

 

A mobile-only app requires that everyone in the organization have a smartphone. An effective COVID-19 screening app must also be accessible via a regular web browser on a PC or tablet.
Segmentation.

 

Many organizations have multiple locations, teams and departments; and the ability to group their screening records, admins and alerts is critical. This is a must for organizations with more than 100 employees.
Dashboard.

 

An employer dashboard that quickly summarizes the key data points is a must for any COVID-19 employer solution. Dashboards today must use optimal UX (user experience) design and offer interactive links and functions to simplify the admin's job.
Compliance tracking.

 

A common question among employers, especially of larger companies, is how they can tell if an employee is participating as required, or not. The dashboard should quickly summarize and identify compliance issues.
Historical data.

 

Some states require employers to maintain their COVID-19 screening records in order to prove that they are actually doing it. The ability to display and print out historical data is a must for an effective COVID-19 solution.
Alerts.

 

Admins should be notified when an employee reports having COVID-19 symptoms or are flagged by one of the screening questions. Highlighting those individuals on the dashboard is a good first step, but an email or push alert is often better.
Passport.

 

Larger organizations need to avoid employee bottlenecks at their entrances, as they can increase the risk of exposure. Having employees prescreen at home and then be able to show a tamper-proof certificate at the entrance would allow them to quickly enter – bypassing lines of other employees who need to be tested.
Don't overlook the importance of employee COVID-19 training
Regardless of which employee symptom screening method you use, COVID-19 employee training is an essential step in allowing employees to return to work. The US Department of Labor's Occupational Safety and Health Administration (OSHA) provides an in-depth look into what businesses need to do in order to effectively control and prevent the spread of COVID-19 in their places of work. A guide from the National Center for Immunization and Respiratory Diseases boils it down to three steps for businesses and organizations:
Develop a plan,
Implement the plan and
Maintain and revise the plan
In accordance with these steps, requiring COVID-19 employee training using sites, like OSHA's, will allow business owners to feel confident in their efforts to provide a safe working environment. J.J. Keller & Associates offers a free online course called COVID-19: Action Plan for the Workplace, which is designed to help employers respond and prepare for potential exposure and risks of COVID-19. The importance of employee training, such as the examples provided above, are to notify employees of critical information that they need in order to safely return to business as usual. Depending on the workplace, OSHA offers an exposure risk pyramid with lower exposure risk jobs at the bottom and very high exposure risk jobs at the top. Identifying your employee's risk is the first step in creating a plan to take the appropriate measures to mitigate that risk. The CDC states that person-to-person transmission happens during close contact, mainly when respiratory droplets are exhaled from an infected person. An example of identifying a risk could be assessing whether your employees work in close quarters. If this happens to be the case, provide social distancing measures by rearranging. If this is not possible, require employees to wear masks to ensure they're not unknowingly infecting others. This process should be completed for all areas of risk in the workplace.
Safeguarding your employees during the COVID-19 pandemic is not impossible
Employers are under a lot of pressure during these times to ensure their businesses are still in operation, and that their employees are able to re-attend work safely. Comprehensive employee training will make it possible for people to adhere to all guidelines put forth by the CDC and other government agencies about best practices regarding the current pandemic. This is an essential aspect of allowing employees to return to their normal work environments safely. COVID-19 employee health screening is the utmost important piece of returning to a viable workplace. Utilizing one of the many available resources to track employee health data prior to their return to work provides employers with the opportunity to view those that are healthy and those that are experiencing symptoms. Many of these resources provide valuable information regarding best practices if employees are experiencing symptoms. The COVID-19 pandemic has changed the landscape of the workforce. Implementing these important procedures will provide an opportunity for many people to return to work quickly and effectively. Continuing to monitor the CDC guidelines and best practices, as well as government agencies' recommendations is the best course of action against the spread of the virus.
The Calcium COVID-19 employee screening solution can help you eliminate the hassle of pre-screening your employees for COVID-19. Get started at covid19.calciumhealth.com.
Easy COVID-19 tracking for your business.