Fahad Alsabhan | 05.07.2019
The obesity epidemic has decreased the number of young Americans able to meet the physical conditioning requirements of the U.S. military.
Obesity is no longer just a population health challenge. This nationwide epidemic is now an emerging national security threat. Almost one-third of American youth are unable to join the military due to being overweight. This poses a major challenge for the U.S. military in its attempt to recruit the next generation of soldiers. Potential enlistees must satisfy a physical evaluation in order to be eligible for service, and the largest reason for disqualification – 31 percent of all new recruits – is obesity.
The largest reason for disqualification – 31 percent of all new recruits – is obesity
While a third of 17-to-24-year-olds are too overweight to qualify for military recruitment, the issue begins much earlier in life. Children as young as two are exhibiting rising obesity rates, which increases with age. 42 percent of teens aged between 16 and 19 are suffering from being overweight. These concerning numbers emphasize the need for preventive measures beginning earlier in life and continuing as our children grow.
How is Obesity Really Affecting Our Security?
A recent
study
conducted by Mission: Readiness titled "Unhealthy and Unprepared" states that American youth with obesity are going to have a serious impact on the military's effectiveness. As of September 2018, the Army had a recruitment goal of 76,500 soldiers, yet only 70,000 recruits joined by the end of 2018. It was found that of the 29 percent of young Americans who graduated high school with no criminal record, and no chronic medical conditions, only 17 percent would qualify and be available for active military duty, and 13 percent would qualify and achieve a satisfactory score on the Armed Forces Qualification Test (AFQT).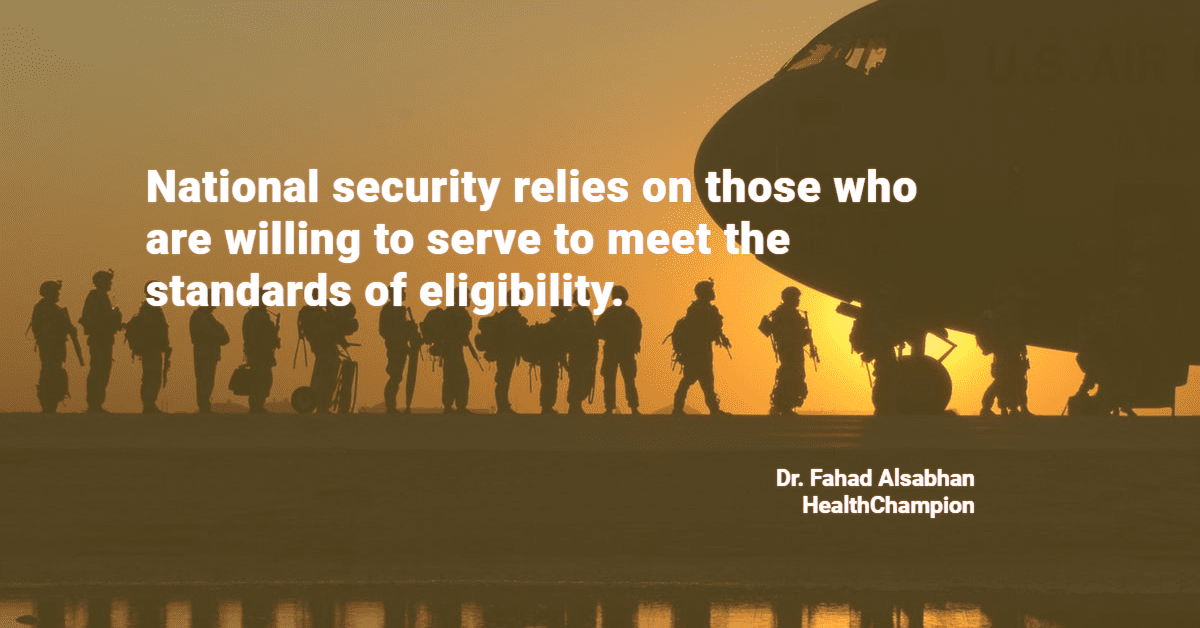 Obesity Affecting Recruitment Rates
In 2017, just 11 percent of 16- to 24-year-olds said they would definitely or probably be serving in the military in the next few years. This is a decrease from 13 percent in 2016, further illustrating the challenges of recruiting new personnel. Estimates suggest that the eligible population will stall at 29 percent through 2020. National security relies on those who are willing to serve to meet the standards of eligibility. Increasing obesity rates, particularly in the southern United States, prevent otherwise eligible young people who are interested in serving from qualifying. 44 percent of military recruits in 2016 were from the South, which also has the highest rate of obesity in the country (32 percent in 2017).
Army recruits who are less active are much more likely to be injured during basic training
Is Obesity That Bad?
Based on a
study
conducted by The Citadel, Army recruits who are less active are much more likely to be injured during basic training. While not all injuries can be blamed on obesity,
one study
found that there were 72 percent more medical evacuations from Afghanistan and Iraq for stress fractures, serious sprains, and other similar injuries— injuries that are associated with poor fitness and nutrition—than for combat wounds. Members of the armed forces should be physically fit and healthy to meet the requirements of their hard and demanding jobs. But military recruits are not immune from the obesity epidemic the nation is facing. In 2015, 8 percent of active duty service members were considered overweight based on height and weight, a 73 percent jump since 2011.

Check, Please!
Obesity is not cheap. Each year, the Department of Defense spends around $1.5 billion on healthcare related to obesity for active duty and former service members and their families. Muscle and bone injuries among Army soldiers cause over half of all disabilities, resulting in $125 million in spending each year. To avoid the major harmful impact of obesity on our society and military's adequacy, preventive measures should be set in place to help solve this epidemic much earlier in the process. Children as young as two are experiencing rising obesity rates. Unfortunately, obesity increases with age. It was found that 18 percent of children ages 6 to 11 have obesity, as do 21 percent of 12- to 19-year-olds. Children with obesity are much more likely to face other chronic illnesses as they grow, like asthma, fatty liver disease, type 2 diabetes, and heart disease. The increasing prevalence of obesity should be a concern to everyone involved. It further highlights the need to create a lifelong preventive plan that begins very early in life and continues through high school and beyond.
Solutions to Halt Obesity
Creating the most effective solution to obesity requires a multifaceted approach that involves the military, policymakers and parents. Policymakers can help prevent obesity by promoting policies that encourage healthy eating and physical activity that can be implemented in schools. Parents play an integral role in their kids' eating and activity habits, but schools are where children spend most of their time. School programs are proven to have a major effect in improving their health. Schools can help children develop healthy habits at a young age by serving nutritious meals and ensuring children get adequate exercise. For instance, the MyPlate plan which is introduced by the U.S. Department of Agriculture (USDA) is a new food guideline that replaces the conventional food guide pyramid with healthier alternatives. Children consume most of their daily calories while in school and away from their parents, making cafeterias an important outlet to promote healthy eating habits. The Child and Adult Care Food Program (CACFP), passed in 2010, is a policy that provides child care services and programs financial support from the U.S. Department of Agriculture to serve nutritious meals and snacks to children in school. Children are eligible from infancy through age twelve and may receive up to two meals and one snack a day. Over 90 percent of schools now serve meals that meet the healthier standards, with fruit and vegetable consumption by participating children increased by 16 and 23 percent, respectively, since the implementation of CACFP. Motivating children to move and be physically active from a young age can prevent obesity later in life. The Active Early program employed in 20 care centers in Wisconsin ensures children are physically active and moving for 2 hours each day. The program lasted for a year and showed a significant increase in physical activity.
Let's Do It Together
Physical activity and healthy eating habits are crucial parts to ensure that our children grow up healthy, and that those who are wanting to serve are suited to meet the military's application and eligibility requirements. Adults, like parents and teachers, are influential in a child's life, and they should teach children healthier eating and exercising habits. Preventive measures will slow down the epidemic of obesity, increasing the number of eligible recruits and enhancing our national security. These measures are vital keys to eliminating obesity and the negative effects on our society and security. But with obesity rates higher in adults than in children, efforts should be made by individuals, communities, states, and the federal government collectively.