Reynaldo Villar | 07.15.2021
Learn about the history of blood pressure readings and what they actually measure
Checking your blood pressure is a required part of every check-up with your primary physician, as well as every visit to the emergency room or urgent care clinic. And if you have to stay in the hospital, you can expect you're attending nursing staff to routinely check your blood pressure, as well as other vitals. The nurse or physician checking your blood pressure will often mention your blood pressure as two numbers, such as "110 over 80." Sometimes, they may even throw in a head shake or disapproving look, letting you know that your readings are high. When that happens, you can probably expect at least a discussion about your hypertension. Unfortunately, your healthcare provider will rarely explain what those numbers mean.
What is a blood pressure measurement and what does it mean?
The quick answer is that blood pressure measures the force in your arteries as your heartbeats. Specifically, it measures the pressure that your blood applies to your arteries' walls during two major stages of the cardiac cycle. Remember that the heart is a pump that sends oxygenated blood to our tissues and organs.
When your heart relaxes, it gathers blood to send to the rest of your body.
When your heart contracts, that oxygen-carrying blood is then pushed out to your tissues and organs, putting additional pressure on the arteries carrying that blood
And for additional context, the average human heart beats about 60 to 100 times per minute. Your circulatory system maintains pressure on your arteries even during the split second the heart is at rest. This is why two numbers are provided whenever you have your blood pressure measured. These two
blood pressure readings
measure your circulatory system pressure in two different stages – when your heart is pumping and when it's at rest.
Systolic vs. Diastolic
The two blood pressure measurements are systolic and diastolic:
Systolic. The top number in your blood pressure measurement is the systolic.

It comes from the Greek word systole, which means to contract (as in your heart contracting to push out blood through your arteries). The systolic measures the pressure inside your arteries when the heart beats.
For most adults, a normal systolic reading is under 120.

Diastolic. The bottom number in your blood pressure measurement is the diastolic.

It comes from the Greek word diastole, which means to draw asunder or dilation. The diastolic measures the pressure inside your arteries when the heart is at rest between beats.
For most adults, a normal systolic reading is under 80.
Your blood pressure measurements tell your physician, nurse or caregiver how well your heart is pumping and can predict heart attacks and strokes.
Normal vs. Chronic Hypertension
The following chart from Health Vermont draws from updated recommendations published by the American Heart Association (AHA) in 2017. It offers a quick review of how blood pressure readings among adults are categorized for hypertension: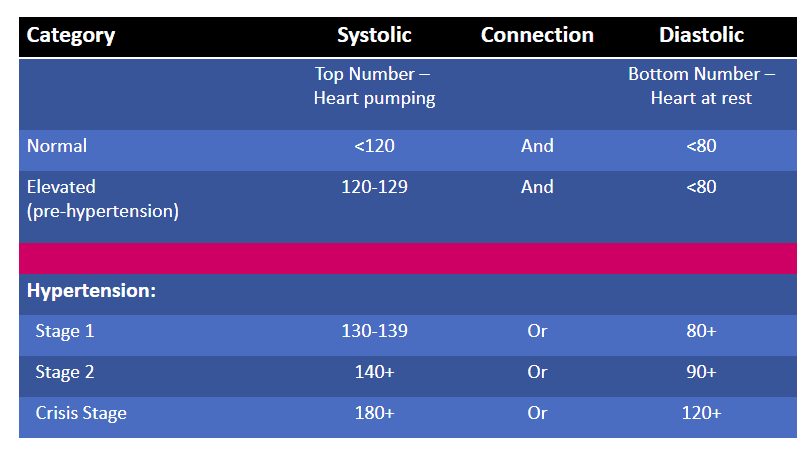 The updated guidelines have lowered the thresholds for hypertension levels:
Before the 2017 AHA update, adults weren't considered to have stage-1 hypertension until their systolic reading was at 140 or their diastolic pressure was in the 90s.

Consequently, many adults who were previously considered pre-hypertension are now considered to have stage-1 high blood pressure.

Similarly, before the update, adults weren't considered to be stage 2 until their systolic readings were above 160 or their diastolic readings were above 100.

With the new guidelines, adults who would have been considered stage-1 hypertensive before 2017 are now considered stage 2.
"If you think those tightening cuffs are annoying or even painful, consider that before the mercury sphygmomanometer was created, blood pressure was taken by puncturing an artery"
How is blood pressure be measured?
There are several types of blood pressure measuring devices in popular use today:
Sphygmomanometer: A Sphygmomanometer is the traditional rubber cuff found in most doctors' offices. This cuff is placed on your upper arm and secured in place. A hand inflation bulb is used to inflate to cuff, causing the circulation in your arm to be blocked. A stethoscope is used to hear the arterial blood flow as the cuff is slowly deflated.
Electronic Digital Arm Cuff: The electronic digital arm cuff works in the same way as the traditional sphygmomanometer but uses an electronic monitor to capture the arterial pressure changes translating them into the systolic and diastolic readings.
Electronic Wrist Cuff: The electronic wrist cuff works the same way as the electronic digital arm cuff except is wrapped around the wrist. This device is the easiest to use but also requires following the wrist positioning guidelines from the manufacturer or it will give a false reading.
Today, blood pressure and
hypertension apps
are readily available for consumer home use. And with web-enabled digital blood pressure machines, healthcare providers are now able to remotely monitor and track their patients' blood pressure readings. But for nearly a century, blood pressure has commonly been measured with a mercury sphygmomanometer. Yes, it uses mercury. And your systolic and diastolic blood pressure readings are actually millimeters of mercury. When a healthcare provider inflates that cuff on your arm until it exerts enough pressure to block your pulse. A small valve then starts to release that pressure. Meanwhile your nurse, doctor, or blood pressure machine then uses a stethoscope to listen to the sound of your blood rushing through.
That initial pressure measurement on the sphygmomanometer, expressed as millimeters (mm) of mercury (Hg), is your systolic pressure reading.
Once the sound of your release blood pressure fades, your caregiver or blood pressure device then uses the second (lower) sphygmomanometer reading as your diastolic pressure reading.
Because sphygmomanometers use mercury, which is a highly toxic metal, there is a push to replace them with digital or electronic devices that do not rely on mercury. But for now, the mercury sphygmomanometer is still the gold standard for measuring blood pressure. Note that if you think those tightening cuffs are annoying or even painful, consider that before the mercury sphygmomanometer was created, blood pressure was taken by puncturing an artery.
What does chronic high blood pressure mean?
Let's start by defining what it means to be hypertensive or be diagnosed with high blood pressure. Hypertension is typically diagnosed by two straight high blood pressure readings on two separate days. To be diagnosed with high blood pressure these two readings must both range from a systolic reading of 130 or greater and/or a diastolic reading of 80 or greater. When someone consistently has high blood pressure readings, they are sometimes referred to as someone with chronic hypertension. Unfortunately, high blood pressure doesn't often cause clear symptoms for most people considered hypertensive. High blood pressure may sometimes cause headaches, shortness of breath, dizziness, or other symptoms. But for many individuals, chronic hypertension is not regularly noticeable.
How should you manage chronic hypertension?
The most prevalent strategies for lowering your blood pressure prior to medications are diet, weight loss, lifestyle modifications (reduce alcohol use and eliminate smoking), stress management, and increasing your activity. When it comes to caring for patients with chronic hypertension, the first step in managing it will be diet. Eating a diet low in fat and low in salt will help reduce your blood pressure. Weight also contributes to high blood pressure. If you are overweight, losing weight (even just 5 or 10 pounds) with a healthy diet will help to reduce blood pressure. If you regularly drink alcohol or smoke cigarettes, reducing your alcohol consumption and eliminating your smoking habit will also help to reduce your blood pressure. Stress has also been found to impact many people's blood pressure. Reducing stress or learning how to manage stress will help to lower blood pressure. Another proactive step for controlling hypertension is exercise and activity. Increasing your activity level can have a significant impact on lowering or managing your blood pressure. Medication is the last line of treatment for high blood pressure. There are many different types of medications used for lowering blood pressure. These medications are broken into classes by how they work to reduce your blood pressure. If medication is needed your doctor will identify the appropriate blood pressure medication for you. But it's important to note that hypertension medication doesn't eliminate the need to change your lifestyle.
What does low blood pressure mean?
Low blood pressure is a systolic blood pressure reading lower than 90 and/ or a diastolic reading lower than 60. While lower blood pressure is often desired, symptoms will develop if your blood pressure becomes too low. On some occasions, low blood pressure can even be life-threatening. Symptoms of low blood pressure can be dizziness, lightheadedness (especially when standing up), fainting, blurred vision, nausea, fatigue, and lack of concentration. Causes of low blood pressure could be a new medical condition (such as an infection) or medication-related. Low blood pressure without symptoms may not need to be managed. Often your physician or therapist will review your lifestyle, weight, and diet to ensure your body is healthy and that low blood pressure will not cause any issues. Low blood pressure with symptoms should always be managed by a physician.
Start tracking your blood pressure now
Now that you understand what the systolic and diastolic portions of your blood pressure readings mean, it's time to start tracking your blood pressure – especially if you are pre-hypertensive or hypertensive. Tracking your blood pressure on a regular basis gives you a more complete picture of your health. Specifically, it gives you a clearer picture of your risk for heart disease, heart attacks, and strokes. Hypertension is one of the most prevalent
chronic diseases
affecting American consumers today. It is also one of the most preventable. Remember: Think healthier.
References
Chobanian AV, Bakris GL, Black, et al. The Seventh Report of the Joint National Committee on Prevention, Detection, Evaluation, and Treatment of High Blood Pressure: the JNC 7 report. JAMA2003;289(19):2560–72.
Chopra, H.K., Venkata, C., Ram, S. Recent Guidelines for Hypertension. https://doi.org/10.1161/CIRCRESAHA.119.314789
Collins, Francis. High Blood Pressure: A Global Threat. National Institutes of Health; April 4, 2013. https://directorsblog.nih.gov/2013/04/04/high-blood-pressure-a-global-health-threat/
Illiades, Chris, MD. How Is Blood Pressure Measured and What Do the Numbers Mean? Everyday Health; November 24, 2009. https://www.everydayhealth.com/hypertension/understanding/what-does-blood-pressure-measure.aspx
Jones DW, Lenfant C, Appel LJ, Burt V, Charleston J, Cutler JA, et al. National High Blood Pressure Education Program (NHBPEP)/National Heart, Lung, and Blood Institute (NHLBI) and American Heart Association (AHA) working meeting on blood pressure measurement. Bethesda (MD): National Institutes of Health; April 19, 2002.
Lawrence, Leah. The mercury sphygmomanometer: End of an era? Healio; March 1, 2011 https://www.healio.com/news/endocrinology/20120325/the-mercury-sphygmomanometer-end-of-an-era
Vermont Department of Health. HPDP-AHA Blood Pressure Chart. https://www.healthvermont.gov/file/hpdpaha-blood-pressure-chartjpg-0