Clinical Pathways, Digital Delivery
Patients forget about their surgery instruction sheets until it's too late. Give your patients the option for an enriched digital experience today.
Improve patient satisfaction
When patients know what to expect, they're calmer and less anxious about their procedure. They feel cared for, and are happier with the overall experience.

Reduce emergency visits
With video demonstrations patients are more likely to understand and identify real complications and avoid heading to the emergency room for unnecessary evaluation
Increase patient engagement
By scheduling and automating, patient engagements are delivered exactly when they're needed, reducing no-shows and avoiding patient-led cancellations
Decrease call volume
Care teams can nudge and remind from afar, triage patient issues remotely, and stratify risk without ever answering the phone, reducing unnecessary staffing and burnout
Perioperative Patient Engagement

Patient Risk Stratification
Reminders & Notifications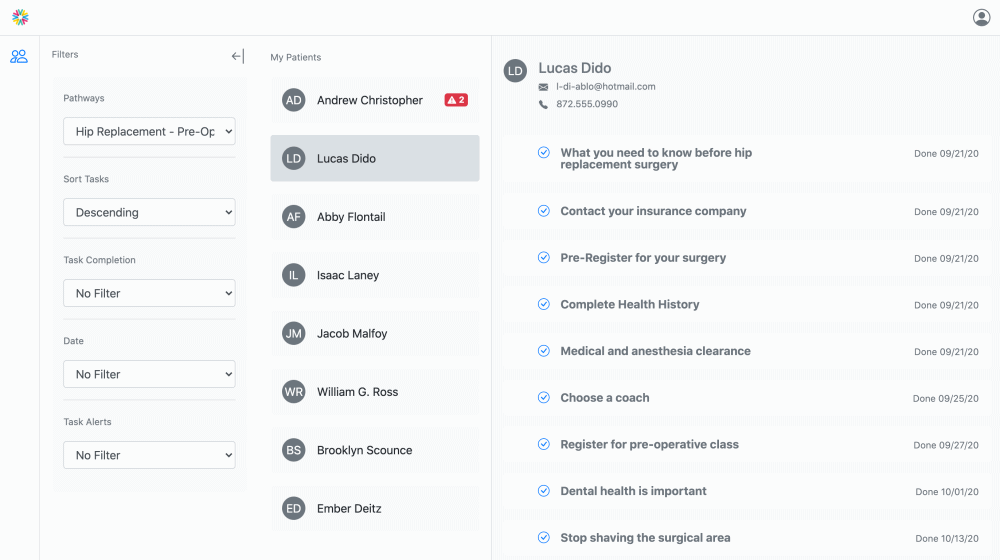 Accepting New Pilot Program Participants

The recovery activities that directly impact successful surgery outcomes happen in a period of engagement darkness. Patients and caregivers don't know what to expect. They either save critical questions for the follow-up visit, or they head to the emergency department unnecessarily in a panic.

With Calcium, we digitize your clinical pre- and post-operative pathways, empowering patients to self-manage their recovery with automations, video, and notifications all in one place. Your staff can stratify risk and monitor engagements as they're due, proactively reducing no-shows and emergency visits.

We understand transitioning your clinical pathway to an app experience isn't trivial. In fact, the science of digital patient engagement is evolving every single day. We've created an ultra low-cost pilot program that allows you to try digital clinical pathways out for your staff and patients.

With publication opportunities and program participant discounts, the time has never been more right than it is right now to go digital. Request info today!

Calcium understands your challenges and has a deep familiarity with patient experience.