The Direct Primary Care Software for Improved Health Outcomes & Sustainable Growth
Discover how Calcium's direct primary care solution empowers providers with a super app designed to drive higher patient satisfaction and sustainable practice growth.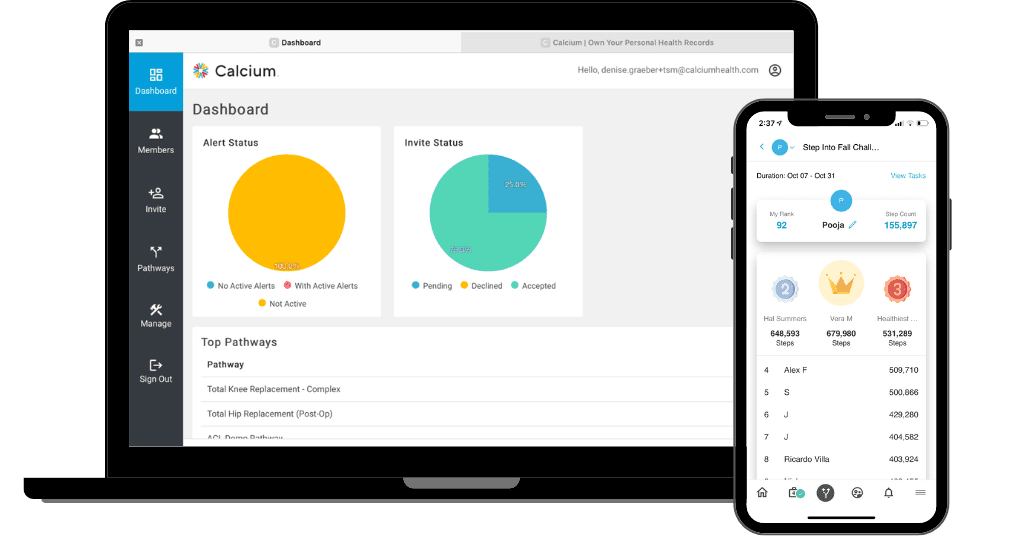 Finally! A Direct Primary Care (DPC) App That Provides 360° Insights Into Your Patients
The Calcium digital health platform provides the integrated solution for DPC physicians and providers – and their patients – that empowers DPC physicians, nurses and care teams with the analytics, data and tools they need offer a higher level of service, while also improving their staff's productivity. Learn more today by scheduling a personalized consultation or scrolling down for more details.
The Direct Primary Care App Designed to Optimize BOTH Patient Engagement & Care Team Productivity
Calcium is more than just a digital health app. The Calcium platform provides direct primary care providers with a super app that combines a consumer-centric patient app with an integrated, productivity-boosting dashboard for your team.
Increase your care quality through automation and digitization. Your Calcium direct primary care app allows you to offer more to your patients.:
24/7 guidance daily reminders and directions.
Curated education provide easy-to-digest videos & articles.
Secure data sharing ability to share EMR with all care providers.
EMR access immediate access to lab results & electronic records.
Efficient Provider Dashboard
Access the data, tracking, analytics and digital tools you need to improve your productivity and efficiency – while still improving patient care quality and satisfaction:
RPM easy integration with digital health apps and medical devices.
Real-time tracking monitor medication & care plan compliance.
Prioritized alerts organize tasks based on urgency & patient statuses.
Easy & configurable adapt pathways to meet your programs.
At Last! A Direct Primary Care App Designed to Engage & Motivate Your Patients
Patient Guidance
At Calcium's core, our pathways are designed to continuously guide your patients to better health.

With the Calcium app, you can turn your checklists and instructions into guided reminders, alerts and action plans to help your patients achieve their health goals.

Patient Motivation
There's no mystery to how we can manage chronic conditions and event prevent many illnesses and diseases.

Calcium employs gamification design and behavioral science to encourage your patients – so they take greater control of their health.

Patient Feedback
With our configurable app pathways, DPC practices can set up regular feedback prompts from patients – in addition to gathering remote patient monitoring data.

This helps your patients stay engaged and on track, as well as help you keep track of your patients' progress.
The Digital Health Platform that Addresses Direct Primary Care's Most Pressing Challenges
As demand for direct primary care services continues to grow, direct primary care practices are now faced with new challenges they didn't have to worry about in traditional healthcare systems and hospitals. The Calcium platform is designed to help.
Empowered Patient Relationships
One of the top draws for physicians and providers making the jump to direct primary care has always been the ability to develop better relationships with their patients.
With tools such as automated pathways, RPM and 360° insights into each patient's history and progress, the Calcium app helps direct primary care practitioners better understand their patients and build more collaborative relationships.
Sustainable Practice Growth
How do you grow your direct primary care practice without falling into the trap of having to limit patient engagement and dealing with provider burnout?
Digital health offers a solution by automating many parts of patient engagement functions and providing actionable practice analytics – without sacrificing care quality. With more insights at hand, each patient session can be more productive and focused on helping patients achieve their health goals.
Amazing! You Can Configure Calcium's Pathways to Address Your Patients' Specific Health Challenges
Diabetes
In a 2022 study with a major healthcare system, the Calcium app was able to lower A1C levels by in just six weeks with continuous guidance and tracking.

Hypertension
Calcium's hypertension pathways check for daily vitals and track medication adherence, as well as help patients better understand their hypertension condition.

Heart Disease
The Calcium direct primary care app can help your patients with heart disease stick to their care management plan and on the path to optimal health.
Obesity
The Calcium pathway can be configured to educate, guide, track and motivate patients as they tackle their weight loss challenges and make long-term lifestyle changes.
Hyperlipidemia
Like other chronic conditions, hyperlipidemia can be controlled with the right diet, exercise and medication regimen. Our pathways help your patients stay on track.

Other Chronic Conditions
Besides diabetes, hypertension, hyperlipidemia and heart disease, the Calcium direct primary care solution can utilize pathways for every chronic illness.

Preventative Health
Concierge med providers can configure our app pathways with health management prompts to help patients reach and maintain optimal health goals.

Acute Care
Calcium isn't just for chronic conditions. Our patient app pathways and RPM can be configured to help patients navigate their acute care and rehab challenges.

Elective Treatments
Our perioperative pathways can be configured to help patients prepare for, maintain and successfully recover from elective treatments.
The Integrated Solution for Concierge Practices That Empowers & Encourages Patients
UX: Easy to Use & Understand
The Calcium platform was built with leading-edge user experience (UX) design to increase engagement and adoption:
Simple our navigation design makes everything easy to find and even easier to get started.
Recognizable we apply proven UX design that users have come to expect from the best apps.
Guided configurable pathways walk with your patients through all their checklists and care plans.
Supported resource information and our support team are always just a click away for your patients.
Gamification: Designed to Motivate
Our behavioral science approach helps motivate even your most challenging patients to stay on track:
Progress tracking our pathways make it easy for patients & providers to track care plan progress.
Individual milestones configure, recognize and even reward individual milestones achieved.
Group challenges motivate your competitive patients with group challenges and leaderboards.
Encouragement automate regular check-ins and encouragement to keep patients on track.
The One Digital Health Platform for Your Direct Primary Care Specialty
Regardless of your focus or specialty, Calcium platform can help improve your direct primary care medical practice with a patient-centric approach designed to increase each patient's personal health literacy, plan adherence and satisfaction.

Pediatric Care
The Calcium app empowers parents and providers to work together with pathways configured for pediatric needs and challenges.
Geriatric Care
As app and digital adoption increases among seniors, direct primary care providers can expand their care with RPM and daily vitals checks.
Family Care
The Calcium app is family-friendly, allowing parents to create sub-accounts for their children and spouses to give data-sharing permissions.
Disease Management
Whether dealing with chronic or acute illnesses, the Calcium app helps direct primary care practitioners configure our pathways for their healthcare focus.

Preventative Care
The Calcium platform supports direct primary care practitioners with integrative and holistic approaches to maintaining and optimizing patient health.

Specialty Practices
From allergists and dermatologists to oncologists and other specialists, the Calcium app has the solution to empower direct primary care practitioners.
The Direct Primary Care Software That Improves Your Team's Productivity & Care Quality
The Calcium platform is designed to improve patient outcomes. But it also includes powerful tools to help your practice grow and improve your group's productivity.
Patient Satisfaction
Increase patient satisfaction ratings by providing more control and information.
Prioritize Your Outreach
Your team can now quickly identify patients who need immediate help.
Patient Engagement
Automatically guide and monitor patients – every single day of the week.
Higher Quality Care
Get a more complete picture of each patient's health and adherence to care plans.

Cross-Provider Collaboration
Communicate with all healthcare providers involved with a patient's treatment.
Reminders & Notifications
Automated reminders and notifications to help you stay on top of patient progress.

Improved Communication
Get regular feedback from your diabetic patients through the app.
Reliably Secure
HIPAA-compliant platform protects your patients' privacy and confidentiality.
Adapt To Your Needs
Develop pathways for specific patient segments and requirements.
The Direct Primary Care Solution Designed for Patient Engagement, Satisfaction & Health Outcomes
While the Calcium platform provides an array of tools for DPC providers and practitioners, it's our consumer-centric patient-facing features that really make our app super!

EMR Access
Your patients can access their entire electronic medical records history – from multiple health systems – through their Calcium app.

RPM
The Calcium platform easily integrates with thousands of health apps & medical devices to provide turnkey remote patient monitoring.
Secure Sharing
The Calcium patient app allows patients to build a circle of caregivers, with whom they can share medical data and info.
Medication Tracking
You can now provide each patient with reminders and tracking to ensure they take their prescribed medication as directed.

Learning Modules
Create a series of easy-to-follow videos and articles to educate each patient about their current or potential health challenges.
Weight Management
Assign weight loss, nutrition and dietary pathways to help patients get in shape with helpful resources and continuous guidance.